The Stamford Historical Society Presents
GRACIOUS LIVING IN STAMFORD
Late 19th and Early 20th Centuries
Photos and Objects from Our Collection
Katharine Merritt's Photo Album
1893 & 1894
Schuyler Merritt, c. 1892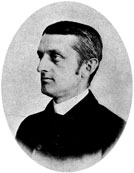 Another recent acquistion, Katharine Merritt's Photo Album, contains photos taken in 1893 and 1894. These consist of photos of property—most are presumed of the estate of her father, Schuyler Merritt; group photos of adults in various domestic settings, and children's and pet's photos.
The Schuyler Merritt home was situated at Noroton Hill, on what is now the Clairol property.
The people in the group photos are unidentified, but the images give a good impression of the interior of a well-to-do Victorian home. Pictures may be viewed in Living Rooms, Books and Music, and Life at Home.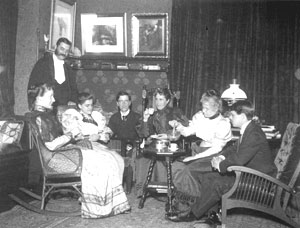 The young girls in the photos are most likely Schuyler Merritt's daughters, the later Dr. Katharine Krom Merritt, pediatrician at Babies' Hospital, New York, and Louise (Mrs. William B. Dalton) of Ocean Drive East, Shippan Point.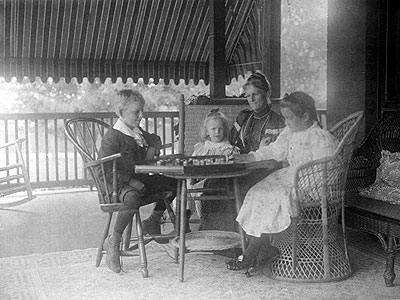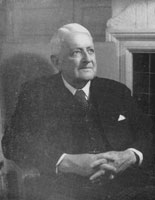 Also shown is a portrait of Schuyler Merritt at the age of 99, taken in either 1952 or early 1953, and the facsimile of his introduction to the first edition of "The Stamford Historian," both from the book published in 1954. This book also contains a biography of Schuyler Merritt.
Schuyler Merritt (1853-1953) was not only important to Stamford and Connecticut as a community leader and congressman for many years, but also as a long-time member of the Stamford Historical Society, which elected him Honorary President in 1947. Today, he is best known as the chairman of the commission of the Merritt Parkway, which latter was named in his honor. He was married to Frances Hoyt. He died 8 months short of his 100th birthday.
At right: Schuyler Merritt at age 99.