The Stamford Historical Society Presents
GRACIOUS LIVING IN STAMFORD
Late 19th and Early 20th Centuries
Photos and Objects from Our Collection
William Judd Home
William Hawley Judd (1850-1927) was engaged in the lumber business all his life.
Beginning in 1853, the lumber company Fox and St. John, later named Hoyt and St. John and eventually Hoyt, Getman & Judd, carried on a large business at the canal dock. As the company grew, the manufacturing segment of the business was separated from the mercantile aspects and incorporated in 1885 under the name of The St. John Wood Working Company. The name of Hoyt was dropped from the above company in 1897 and Mr. Judd became president of Getman & Judd. He was also secretary-treasurer at the St. John Wood Working Company. Getman & Judd remained in the lumber business until 1965.
At the time of his death Mr. Judd was a vice-president of the Stamford Trust Co., a director and member of the executive committee of the Stamford Savings Bank, and sat on the boards of various insurance companies. In later years he had an interest in the East Branch Dock Company which leased dockage in connection with the ferry service between Stamford and Oyster Bay.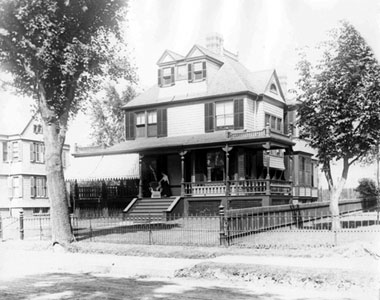 Mr. Judd was a descendent of early settlers in Cambridge, Mass., and was a member of the Sons of the Revolution. He held many local club memberships, including the Stamford Yacht Club. He was educated in private schools in Stamford and later was a director at King School.
His obituary cites him as having been "devoted to the civic welfare of Stamford during his entire life." During the borough form of government in Stamford, he served as a member of the Board of Burgess.
Home, 19 Glenbrook Avenue
William H. Judd moved into his new Glenbrook home from 804 Atlantic Street in 1907. The Society is fortunate to have a variety of interior photos of the house.
Photo selection of the Month, November 2004
Obituary
---