The Stamford Historical Society Presents
GRACIOUS LIVING IN STAMFORD
Late 19th and Early 20th Centuries
Photos and Objects from Our Collection
By the Water
Jarvis Weed Home, 149 Weed Avenue, c. 1907
Rear View, c. 1892 (Picturesque Stamford)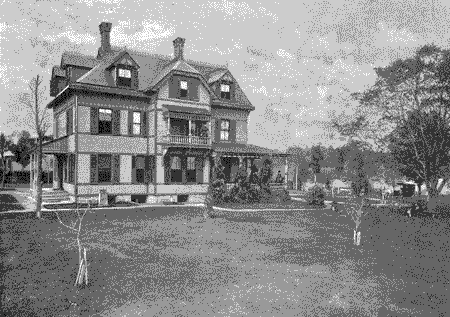 From the Historical Sources Inventory for the Connecticut Historical Commission, 1979:
This handsome villa on Weed Ave. (formerly Pond Rd.) which faces Holly Pond has an interesting profile at the roof with jerkin-head gables, dormers and high brick chimneys. It is stuccoed in lieu of the original clapboarding. The main gable faces the road and, as at the side gables, is carried on small end brackets displaying curved rafter ends. The gables have large boards adorned with bosses and moldings. The gabled dormers have brace members in their overhangs and their frames have geometric ornamentation. A porch with a polygonal corner appears at the left-hand side with bracketed uprights and a low balustrade. The original doorway is set behind a gable in the porch at the front.
SIGNIFICANCE: Despite minor changes in finish, this is one of the few villas of Weed Avenue which retains much of its original Victorian character. An early photo reveals clapboard siding, wood terraces and porches (without screens) and a charming setting with sweeping lawns, ranging down to the pond. Picturesque Stamford, 1892, refers to the house as the home of Jarvis Weed. The Weed family was one of the original property owners in the area. The current owner [1979] is the widow of Gus Edson, a prominent cartoonist and the originator of the "Katzenjammer Kids."
The house was demolished in 1997.
Postcards
Residence of James S. Herrman, Shippan Point, Stamford, Conn.
(Ocean Drive East)
422 Ocean Drive West, c. 1922
| | |
| --- | --- |
| | |
| Cosy Nook, Wallack's Point, Stamford, Conn. | Residence of Anson Phelps Stokes Jr., Caritas Island, Stamford, Conn. |
---