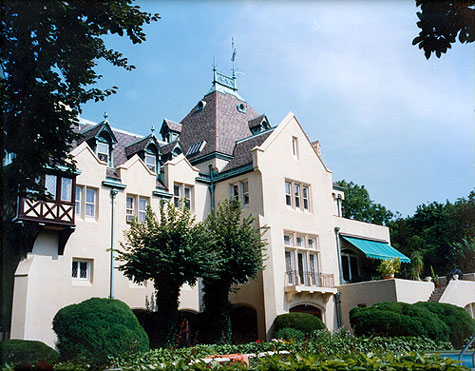 1990 rear view of the Marion Castle.
Framed photograph. Donor: J. A. Kobrin
The Stamford Historical Society Presents
GRACIOUS LIVING IN STAMFORD
Late 19th and Early 20th Centuries
Photos and Objects from Our Collection
Marion Castle, 1 Rogers Road, Shippan Point
Frank J. Marion, an early motion picture film pioneer, built the Marion Castle in 1916 as his retirement home, to enjoy with his wife and five children.
When Marion died in 1963, at the age of 93, the property was sold to Martha and David Cogan. Cogan, an inventor and a leader in the development of radio and television, helped develop the first color television for CBS-Columbia, Inc.
In 1978, Jay Kobrin and Gordon Micunis purchased the Marion Castle and were instrumental in having it placed on the National Register of Historic Places.
From Historical Sources Inventory for the Connecticut Historical Commission, 1978:
This neo-French Renaissance chateau, set down in a suburban community, was designed by the noted architectural firm of Hunt & Hunt, sons of Richard M. Hunt, who had made this style popular on Fifth Ave. and at Newport, R.I. With a relatively blank wall facing the street, entered only through a postern-gate type entry, this large, asymmetrical house reserved its large windows and terraces for the seaward or rear elevation facing west.
A high slate roof, with copper crestings, rises up above the main mass of the building set on pseudo-machicolations. Large dormer windows, with high pediments, are flanked by finials. They have central mullions and stone transom bars. Most of the windows on the sidewalls are double or triple and many have diamond-light casements. A gabled wing facing the water has, at first floor, a large triple window with mullions and transom bars. A series of low segmental arches appear at the high basement, made possible at the side and rear by the falling away of the land. A terrace on the seaward side has steps leading down to grade with solid wing walls flanking it. On the north side, second floor, a long, half-timbered bay is projected out from the main wall, on brackets leading up, at one end, to a circular turret. The outstanding interior includes a baronial, balconied main hall and almost 30 other rooms of varied sizes and uses.
SIGNIFICANCE: Great wealth and a minimum of taxes at the turn of the century made possible the construction of large and elaborate country houses such as this one even though, as at Newport, it is set on a relatively narrow lot. The French Renaissance style, which first found favor on New York's Fifth Avenue, was readily adapted to the country and always involved a costly all-masonry type construction. This house, a composite of several Loire Valley chateaus, was a good example of the new Eclecticism.
In 1985, the Stamford Historical Society presented an exhibit, Marion Castle: History Preserved. A brochure accompanying the exhibit contains Rosemary Burns' A Concise History of Shippan.
With the donation of the above photo came an illustrated sales brochure of an unknown date, most likely prior to 1978, with a property price of $200,000.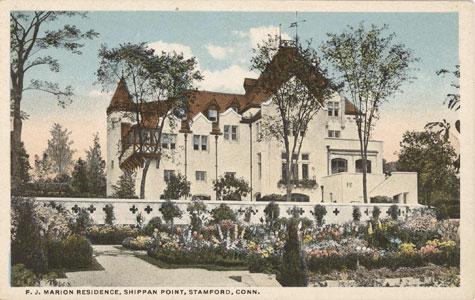 ---