The Stamford Historical Society Presents
GRACIOUS LIVING IN STAMFORD
Late 19th and Early 20th Centuries
Photos and Objects from Our Collection
Strawberry Hill
Home of Mrs. Alfred W. Dater, c. 1930. 192 Strawberry Hill Ave., demolished 1972.
The Dater Garden
Residence of Dr. Henry P. Geib, November 7, 1889
Residence of Mr. F. Weston, November 7, 1889
Residence of Mr. Frank Phelps, c. 1889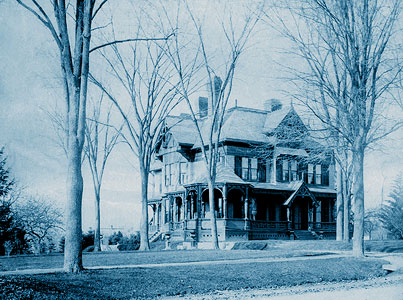 This is what a number of photos of homes in Stamford
—taken 1889, apparently by the same photographer—look like in the original.
Raymond House, Hackett Circle, c. 1889
Hall, c. 1892 (Picturesque Stamford)
Postcard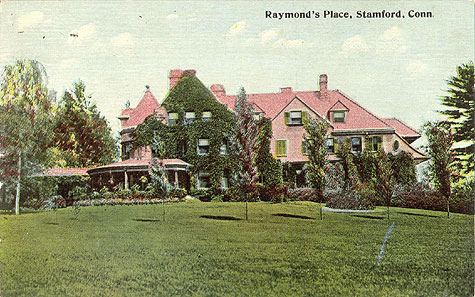 The James I. Raymond home was built c. 1885 on Strawberry Hill Ave. It still stands today and has been divided into apartments. This section of Strawberry Hill is now Hackett Circle.
James I. Raymond was an importer of oriental wares. His firm, the Tontine Corp., was located in New York City.
From the Historical Sources Inventory for the Connecticut Historical Commission, 1979:
This large Romanesque Revival mansion combines, in its picturesque symmetry, handsome random ashlar stonework at the base and sides with stepped and scalloped shingled portions at both front and rear. The combination of wood frame and stone construction here is most interesting and these materials are combined in a very masterful way, thus enhancing the overall effect. The stone tower on the front porch becomes shingle at the second floor above the roof; similarly, the square tower with rounded corners to the left of it. This is one of the clearest examples we have that the shingle-style house, with round, shingled towers, is derived directly from the Romanesque masonry tradition. A large rear wing has shingles at the upper floors and a stone base on the first floor. It has a variety of hips, gables and dormers lending a secondary interest to the main central cross axis of stone.
The interior, although converted to apartments, retains many original details. These include an ornate staircase with "strapwork" rail, a baronial fireplace, Lincrusta Walton wallpaper, fine paneling, original light fixtures and an ornamental ironwork elevator.
SIGNIFICANCE: The house appears to have been built by James I. Raymond c.1885 on the site of the William R. Fosdick house. This structure, valued at $30,000, was destroyed by fire on Feb. 6, 1884. Fosdick's residence was designed by H. Hudson Holly and appeared in his book "Country Seats, 1863.