Photo Archivist's Selection of the Month: September 2008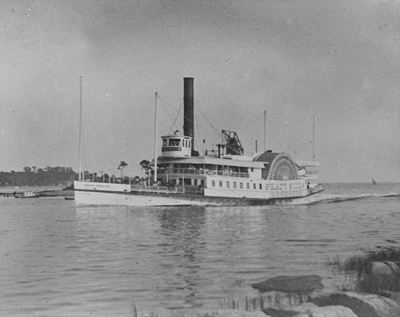 Ferries of Yesteryear
As there is intermittent talk about reviving ferry services between Stamford and Manhattan (Stamford Ferry Feasibility Study) as well as across Long Island Sound (New York Times Archive), we thought it might be nice to take a look back to when ferries did ply their trade from Stamford … way way back!
As the chapter Marine Commerce and Yachting from Picturesque Stamford shows, "steam communication by water with the metropolis was organized on a permanent basis, though for more than a score of years prior to that time steamers were running here more or less regularly, in connection with calls at other Sound ports."
Research on the ferry services has been rather frustrating. We had hoped to find more in THE STAMFORD ADVOCATE TERCENTENARY EDITION 1641 – 1941 and the article "Transportation Fills Big Chapter in Local History," which can be viewed in the Marcus Research Library at Society Headquarters, but the information is very scanty. Manhattan service was discontinued around 1931, and the Oyster Bay service to Long Island in 1939 or 1940.
The most enduring and beloved boat seems to have been the steamboat/side-wheeler "Shady Side," of which our archives have several images. It was called "one of the handsomest passenger-boats on Long Island Sound," and it provided ferry service to Manhattan beginning in 1886. It burned apparently in 1931; we have a photograph of the wreck.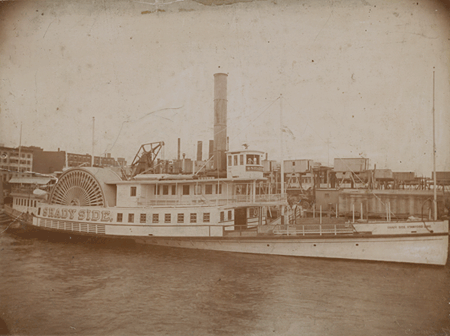 The caption reads "Jim Merrill was the captain from 1886 to 1914,"
but elsewhere it says that she was commanded by Capt. Sheldon Bullock in 1886.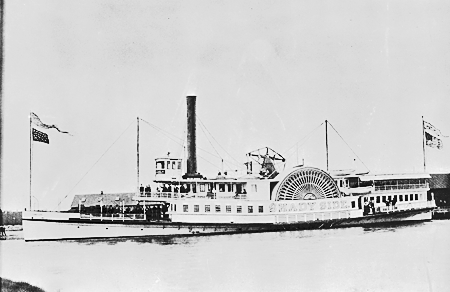 undated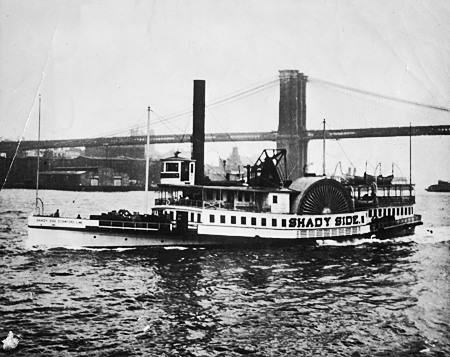 On the East River, New York City, undated
| | |
| --- | --- |
| Wake of the Shady Side, New York bound | Shady Side Interior, 1906 |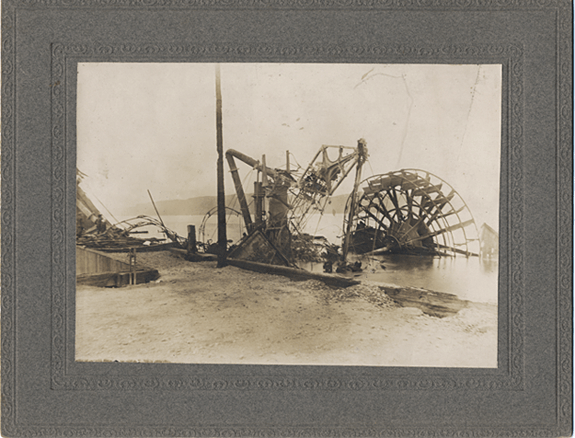 Shady Side as burned out wreck, caption says April 1931
Photos © Stamford Historical Society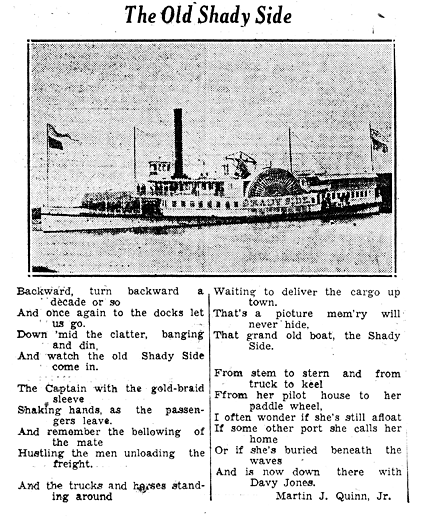 there is no source for this clipping, but we may presume it's from The Advocate
Some other things we found along the way:
| | | |
| --- | --- | --- |
| | | |
What it cost to transport a horse
'The price for transporting a horse an the Steamer "Shady Side" from New York to DeForest was $2.00. Long Ridge blacksmith Sylvester Lockwood charged L.B. $1.25 for shoeing a horse, F. L. Brinkerhoff, feed dealer, charged him $.65/100 lb. for 7910 lbs. of hay, and, oh yes, paregoric was $.08/ounce.' from RG-10
Renting out horse pasture to New Yorkers
'In about 1898, Crandall became active in real estate, not only to work as an agent specializing in rural properties, but also to add to his own assets. He began to accumulate farms principally along North Stamford Road, now High Ridge Road. In 1907 he sold Sky Meadows and moved to a large farm called "Idylland" in High Ridge at Mayapple Road. He now offered a small horse pasturing service to New Yorkers, offering to meet horses arriving on the daily steamboat, "Shady Side." ' from Charles Henry Crandall 1858–1923.
More
Other boats and ferry services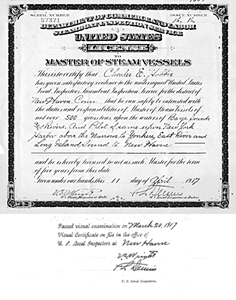 Charles E. Hobbie's Master of Steam Vessels License, 1917
Other Photo Archivist Selections of the Month
Photo Collection Information