Photo Archivist's Selection of the Month: September 2008
Ferries of Yesteryear
Other Boats and Ferry Services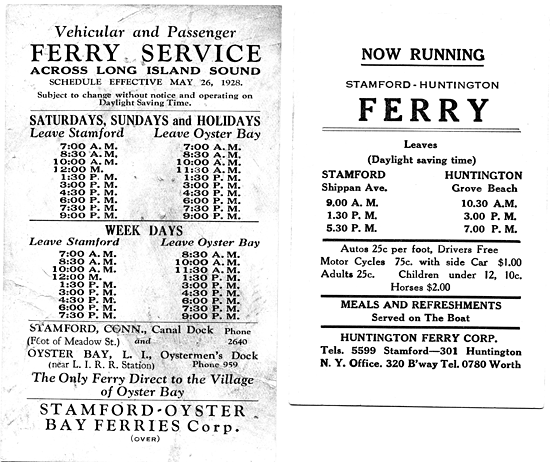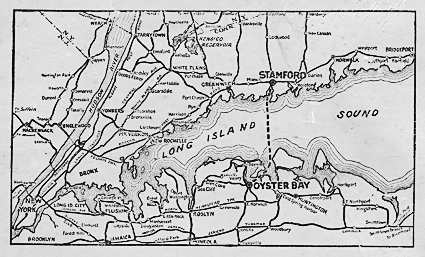 Stamford–Oyster Bay Ferries Corporation
We have no details about the Stamford–Oyster Bay Ferries Corporation, except that it discontinued service around 1940, and we found the following:
'At the time of his death Mr. Judd was a vice-president of the Stamford Trust Co., a director and member of the executive committee of the Stamford Savings Bank, and sat on the boards of various insurance companies. In later years he had an interest in the East Branch Dock Company which leased dockage in connection with the ferry service between Stamford and Oyster Bay.' William Judd
3 RESCUED IN SOUND.; Ferry Picks Up Men Whose Sailboat Was Swamped
June 4, 1934, Monday
Page 3, 116 words
(log-in required)
CAPT. LOUIS A. BABCOCK; President of Stamford-Oyster Bay Ferries Corporation
Special to THE NEW YORK TIMES. July 14, 1938, Thursday, Page 21, 129 words
Captain Louis A. Babcock, president of-the Stamford-Oyster Bay Ferries Corporation, died today in Stamford Hospital, where he had been ill for a month. He was 47 years old
(log-in required)
The steamer Sankaty at one point in time was operated by the Stamford–Oyster Bay Ferries Corporation according to this. The postcard image below is courtesy Wikipedia and in the public domain.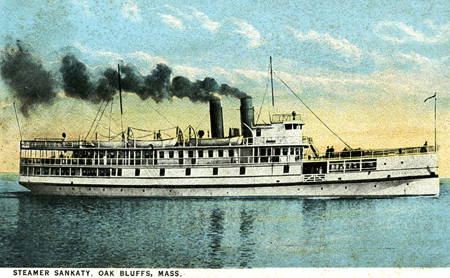 We could not find anything about the Stamford Huntington Ferry. A postcard in our archives shows the steamer "Victor" which may have plied either route: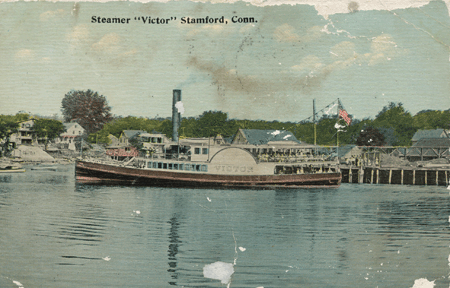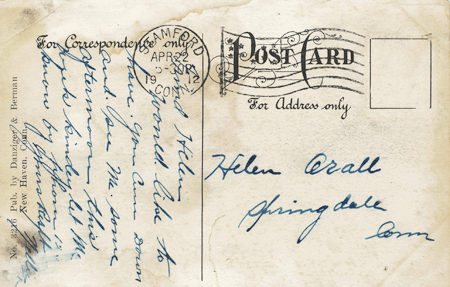 Then there is a photo of the side wheeler "Cetus" of the Iron Steamboat Company alongside the "Shady Side," a print from a glass plate negative.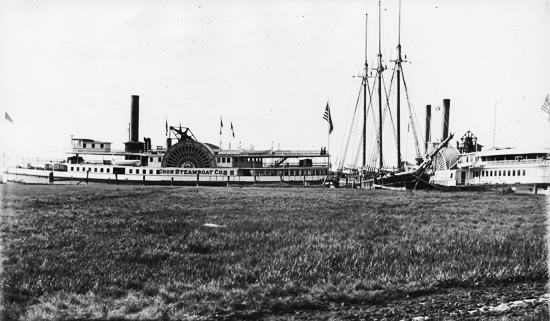 Photo © Stamford Historical Society
The Cetus must have been on an excursion, research shows that the steamer usually plied the waters of New York:
Old Timers - Boats of the Hudson River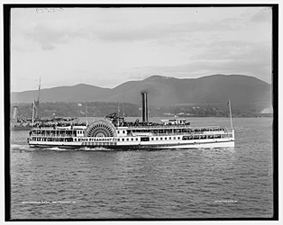 Side Wheeler Cetus, LOC
Around Manhattan Island and Other Maritime Tales of New York
can be previewed at Google Books.
Other Photo Archivist Selections of the Month
Photo Collection Information