Photo Archivist's Selection of the Month: October 2006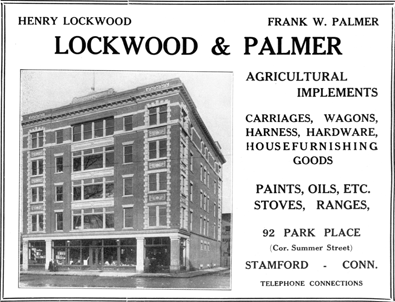 Lockwood & Palmer
or: the forerunner of today's big box stores?
It's time for another installment from the Guide to Nature magazine for our online compilation. Do not be surprised, gentle reader, that the main subject of the feature, the panegyric to the department store of Lockwood & Palmer, is not introduced until several paragraphs into the magazine article. (Actually, in the magazine itself, the photos are not shown until the very end of the piece.) The store was located on 92 Park Place, at the corner of lower Summer Street. The building still stands today.
THE GUIDE TO NATURE
Vol. V. November, 1912 No. 7
Appliances for Nature Work and Pleasures.
Perhaps the most important function in the mission of this magazine is to disseminate a correct understanding of what nature work is, and secondarily to be a guide in the better performance of the work. Certain errors are deeply imbedded in the general public mind. I recently read in a journal devoted to the keeping of honeybees about the error in reference to artificial honey­comb with honey scaled in it, a blunder that originated some thirty years ago in a newspaper article, that said that a process for placing honey in such comb had been discovered, as well as a method of sealing the cells with a hot flatiron, so as to give the product the appearance of honeycomb perfected in the hive. That journal stated that this erroneous, pernicious statement had cost thousands of dollars in at­tempts to correct the wrong impression. One of our national bee associations offered a prize of a thousand dollars for a sample of such honey comb.
That this error was deeply imbedded in the human mind and generally believed, is a trifle when compared with that older and more strongly en­trenched error as to the meaning of studying nature. It appears that centuries ago certain members of the insect world were used for certain queer people in uncanny experiments in magic, and since that time the study of nature in general popular estimation means the study of bugs. During more recent years, in the renaissance of natural science in our larger institutions of learning. there has been disseminated another error not quite so prominent but equally difficult to eradicate. This is that to study nature means to peer through a microscope and to dissect some plant or animal with a scalpel.
Nature has waited many centuries, and met with many difficulties in coming, into her own, but within the last few decades, perhaps within a score of years, she has been steadily and successfully doing that. Free yourself, O reader, from the traditional errors of the past, and let us tell you plainly and pointedly that what this magazine stands for is not to lead you to become an expert in any department of entomology, not an expert with the tools of the laboratory, but to guide you sympathetically to nature in all her charms, attractions and helpfulness.
Go to her in your own way, but if you go to her through the chicken yard, you are as much studying birds as you are if you go to her through the field glass, with the object a scarlet tanager at the topmost of a tree.
Go to her in your garden, and watch that annual marvel of the unfolding of the plant through the germinating seed till it comes in late year to full mystery of a joyous crop.
Go to her through your greenhouse. Enjoy the esthetics of the varying color and delicious perfumes offered by the triumphs of the modern florist art.
Go to her if you please in the larger forms of cultivated plants that we call agriculture. A cornfield is, if rightly used and viewed and rightly studied, as much a place of inspiration as the tangled thicket.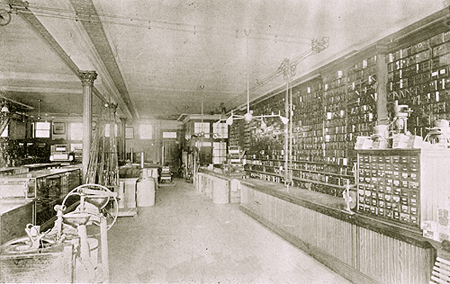 THE RIGHT SIDE OF THE GROUND FLOOR OF LOCKWOOD & PALMER'S STORE.
Why in the name of common sense, have we relegated the daisy to the botanist and forgotten the cornstalk? No one who rightly views them does that, but in this clinging, cobwebby superstition of the past there seems to be a popular impression that botany means some rare floweret in some hid­den cranny as it does not. There is no reason why botany should not be studied in the potato field. Isn't that Solanum tuberosum as interesting as the bittersweet, the Solanum nigrum or any other member of that family? Is there any plant in all the domains of nature more interesting than the many varieties of Brassica? Perhaps you know it under the name of cabbage, turnip, Brussels sprouts, kohlrabi, rape or cauliflower. The last mentioned member of the Brassica family has perhaps excited more intellectual interest than its plebeian brothers and sisters, because it has been so aptly defined as cabbage with a college education. So if you want to study or to revel in the beauties of plants or animals, by whatever name you may call it, if it is only your garden or your field or your conservatory, or the equipment of your suburban home, then the Mecca of all your interests is the well-equipped store that deals in the various appliances that you will need. Of that kind in this vicinity I know of none more extensive, more attractive and efficient than that of Lockwood & Palmer, Stamford, Connecticut. Would you have a better garden, would you better know the garden's interest?. Look at the long list of apparatus that you will need, plows, harrows, wheelbarrows, farm wagons, hoes, rakes, trowels, dibbles, in fact no end of attractive appliances to open up the charms of the plant world under cultivation and observation. Would you revel in beautiful ornithology? Here are innumerable appliances for keeping your feathered pets that we know under the common name of poultry. Do your fourfooted friends comprise pet rabbits, cavies, cats, dogs, cows, oxen, bulls or horses, of course you will find everything you need at this great and well equipped are store. Do you like to tinker around, build buildings and equip them? What better place for every form of tool to delight the worker in wood? If you are building a barn you need an assortment of tools, and do not forget that you are going as directly to nature in building a barn as in building laboratory, only you are dealing with a different form of animal life and have a different point of view. In your barn you will study the balanced relations of the cows, you know what is best adapted to your draft horse or to your trotter. If yon are building, a laboratory, it will be for the study of the habits and the traits of smaller forms of life.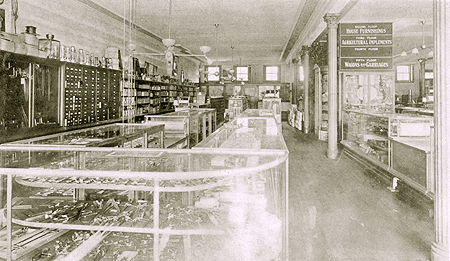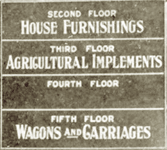 THE LEFT SIDE OF THE GROUND FLOOR OF LOCKWOOD & PALMER'S STORE.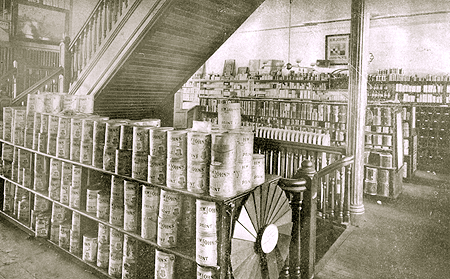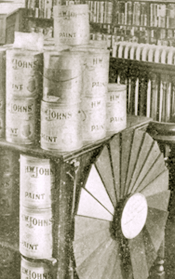 FOR PAINTING YOUR HOME OR OTHER BUILDINGS NEAR TO NATURE.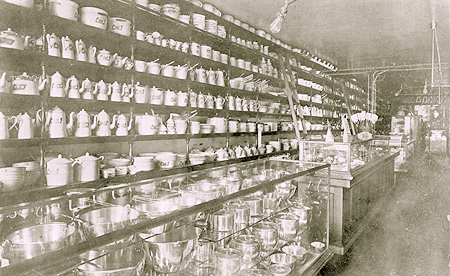 UNLIMITED ASSORTMENTS FOR FURNISHING THE KITCHEN.
A VERY ATTRACTIVE DISPLAY.

| | |
| --- | --- |
| | |
Lockwood & Palmer's well equipped store is an emporium for better and more effective living near to the heart of nature. In fact you can find here not only the equipments for living near to the heart of nature, but for getting there. Probably there is no other store in all eastern Connecticut better supplied with good, comfortable carriages and all sorts of vehicles than is this store. Merely to walk through their carriage department makes one long to take a ride into the suburbs of Long Ridge, or High Ridge, and to seek the wilds of New Canaan or Quaker Ridge. To tell you all this comes within our guidance into the deep recesses of old Mother Nature as much as would the telling where you might buy a telescope. Perhaps some one to whom still cling those cobwebs of erroneous tradition will ask, why does a natural history magazine recommend a hardware store? Why not, when from the roof to the cellar what one finds in these many stories are but helps to take you to nature in the way in which you like to go. If you like nature best in the cornfield and the potato patch, you will certainly, find here as much to delight your eye as will the one who admires nature through the vasculum and collecting case.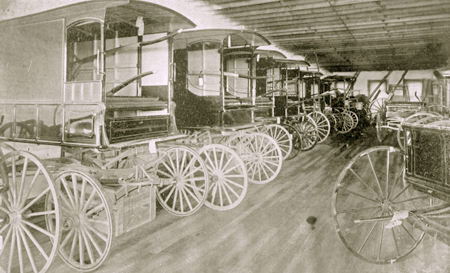 FOR THE DELIVERY OF NATURE'S PRODUCTS.

A CORNER IN THE STORAGE DEPARTMENT.
Goods are received by the carload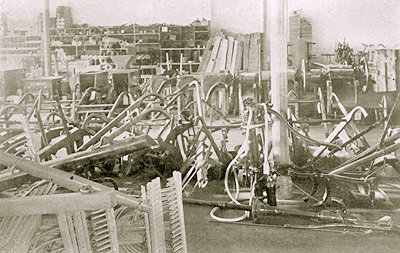 A SECTION IN THE DEPARTMENT OF MACHINERY AND TOOLS FOR THE FARMER.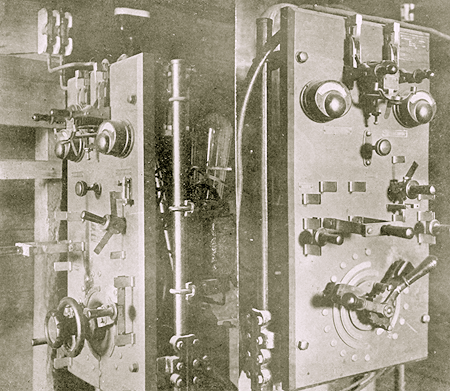 GOODS ARE DELIVERED QUICKLY BY ELECTRICAL POWER.
Good, intensely good is this modern movement of taking people out of the crowded cities to the country or even to the suburbs. There is more room there, no longer are you crowded into the tiny rooms of a flat, nor in some little section of a home in the city, but here you have plenty of space in which to spread, and in which you can have the conveniences of a home. If you want to furnish the kitchen, the pantry, the cellar or the back workshop, you go first of all to Lockwood & Palmer's for your supply of good things. That these enterprising proprietors have well served their fellow-men is shown in the remarkable growth of their headquarters. Only a few years ago, I am told on good authority, they were doing less business in the entire year than they now do in a single month. What does that mean? It is merely another way of stating that they have been of so good service to so many people who are seeking to better equip their homes or their workshop, their farm, their garden or their greenhouse, that those who have been benefitted by their in­creased activity have spread the welcome news so that these proprietors must go on and do more and still better work. This magazine joins with them in its expression of admiration, and says, all hail to such glorious work! The more plows and hoes and tools they sell, inasmuch as they are good ones and a joy to use, the more enthusiastically will our people go into realms of nature, and the more frequently our people do that the healthier, happier, wiser and more enthusiastic they will be.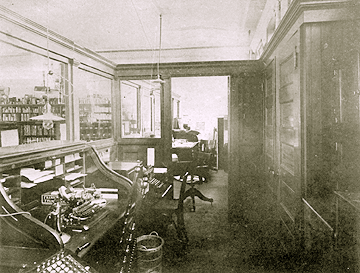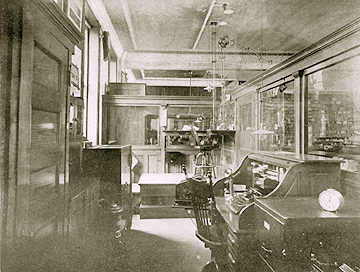 IN THE WELL EQUIPPED OFFICES.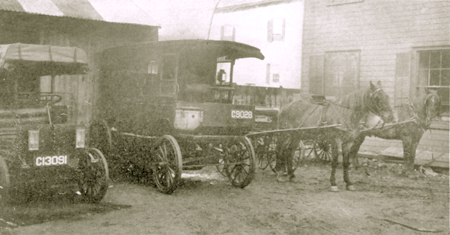 WE ARE IN READINESS TO TRANSPORT THE GOODS.
Cultivate the habit of out-of-doors. It will bring health to your cheek, zest to your occupations, vigor to your soul.
Nature never palls never disappoints. She will rest you, interest you, invigorate you, inspire you. Her breath is balm, her presence healing. You need take no long journey across the sea, or across the continent, for she always at hand – often at your very recognition.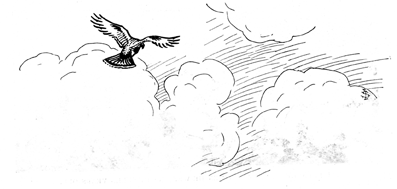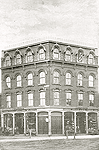 In Picturesque Stamford of 1892
we found a Henry Lockwood, owner of
"House Furnishing Goods, Stoves, Hardware,
Agricultural Implements".
We are exploring whether this is the same Henry Lockwood as, or the father of, the above.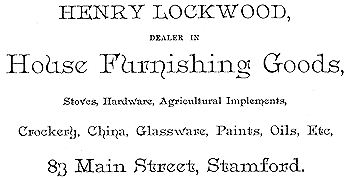 Other Photo Archivist Selections of the Month
Photo Collection Information