Picturesque Stamford, 1892
Educational Institutions, pp. 191, 192
THE MERRILL BUSINESS COLLEGE.
The history of this well-known institution of learning is filled with interest from the date of its founding to the present time. Those who have noticed the general growth and expansion of this school, are filled with amazement at its present attainments as compared with the beginning four years ago.
The college occupies the entire floor of one of the finest and most centrally located blocks in Stamford. The floor is divided into eight rooms occupied by the various departments of the college. These rooms are fitted up with the most approved appurtenances, and receive light and ventilation from large windows, skylights, air-shafts, etc. The walls are decorated with large slate black-boards, designed especially for penmanship and the general work of this college.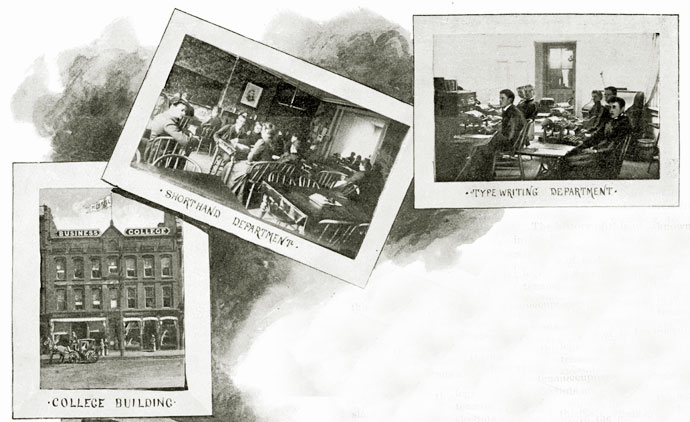 The general courses of the college are divided into departments, viz: Stenography. Typewriting, Commercial, Penmanship, Academic, German, Telegraphy and Architecture.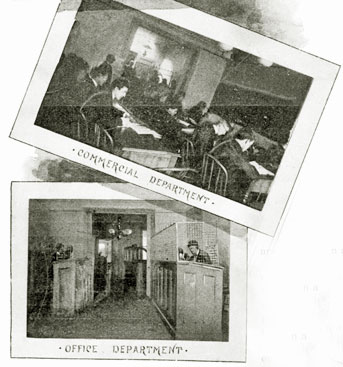 In many schools the students of all departments are found occupying one room, but the visitor at Merrill College is at once impressed with the fact, that the students of the different divisions are not together, but each division has its, own rooms, and is instructed by different teachers.
This college has gained a wonderful reputation for the able students it has graduated, and the great number it has placed in positions through its influence in New York city. It is said, and truthfully, too, that the Merrill College places ninety per cent. of its graduates in good positions. Its influence is refining; its instructors have the training of their students at heart; it tolerates no student whose intention is not to work; its mission is to make successful men and women of its graduates as far as practicable. Its doors stand open the entire year, and students are enrolled on any school day, and visitors are always welcomed.
To parents having sons and daughters to educate in Bookkeeping, Banking, Commercial Law, Penmanship, Correspondence, English Preparatory Studies, Stenography, Typewriting, Architecture, Telegraphy and German, the Merrill Business College is recommended as an institution of merit, endorsed by its patrons and many leading business houses in Stamford and other cities. Its training is designed to make our young men and women powers in this age.
As a local institution the college contributes an appreciable influence to the enhancement of Stamford's reputation as an educational center unique in its methods and devoted openly and pointedly to the preparation of young men and women for practical, wage-earning work in the commercial and manufacturing world, it occupies a field peculiar to itself, and one of no inconsiderable importance and value in the economy of modern business life.
The time required to complete the different courses of study at the Merrill Business College varies, according to the ability of the student, previous preparation, and the course or courses of study desired. It will take the average student five to six months to complete the commercial course; six months to complete the shorthand and typewriting course; about one year when combining the two courses; eight to ten months to become a proficient telegraph operator; six months to one year, in connection with other studies, to acquire a knowledge of German sufficient for business purposes; architecture, three months to one year. Three months to two years are spent in the Academic department, according to age and requirements of the student. Pupils enter this department as young as fourteen years of age, and require a thorough course of instruction, while others need only coaching in a few studies, prior to taking up practical commercial work.
Picturesque Stamford, 1892
Research Library
917.46 Stamford G
---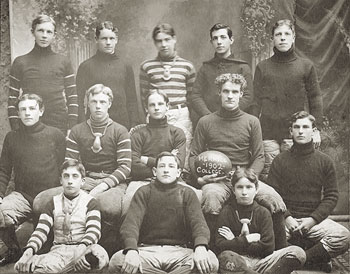 Merrill Business CollegeFootball Team, 1902.
Bartow Ayres in second row with nosepiece around his neck.
Photo Selection of the Month, October 2005