The Stamford Historical Society Presents
Stamford's Civil War: At Home and in the Field
a 2003 Exhibit and more
Virtual Tour: The Halliday Gallery – I
The Halliday Gallery displays an abundance of Civil War related items, mostly from the Society's extensive holdings, which we are pleased to show off to the public!
These include two flags of note:
At left: British Flag. Captured from an English blockade runner during the latter part of the war by Samuel Henderson Johnson, who at 18 years of age grew a full beard in order to appear older. He served as acting master's mate on the Suwanee and later was put in command of the bark Midnight which proudly brought the blockade runner into port. In appreciation for his skill and bravery, the flag was presented to him. Samuel was the son of Captain Lewis Johnson of Stamford.
At right: Confederate Flag. Handmade wool flag. This flag was captured by Chief Ensign Edwin L. Brady, U.S. Steamer Corwin, at West Point, York River, Virginia, from the Flag Yacht of Commodore Page, Rebel Navy.
The first Confederate flag, known as the Stars and Bars, was raised over the Confederate capitol at Montgomery, Alabama on March 4, 1861. Because of its similarity to the Stars and Stripes and the resulting confusion in battle, it was quickly redesigned into the more familiar Rebel Battle Flag.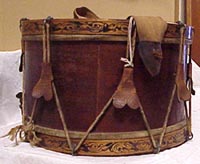 The first item on the right in the Halliday Gallery which catches the eye is a drum which belonged to Charles M. Gill, 1st Regiment. Connecticut Volunteers, Heavy Artillery. Peering through a hole in the side one can see the maker's name John F. Stratton & Co., Manufacturers of Military Band Instruments, of Every Description. No. 49, Maiden Lane, N.Y. Gill later worked at the Stamford Stove Foundry on Canal Street and lived on Bedford Street in a house next to the donor, Mrs. Thomas F. Hogan.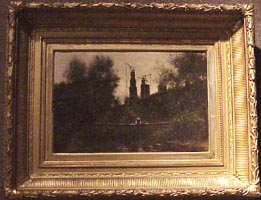 Next to the drum, there is another oil painting by A.C. Howland, Old Iron Foundry, Stamford Connecticut, depicting the Stillwater Rolling Mill on Mill River which manufactured iron and steel. The mills—another one upstream, the Roxbury Mill, manufactured wire—were owned by Theodore and John A. Davenport from 1835-1872. The mills were particularly active during the Civil War providing much needed materials for the war effort.
Further along, a number of ceremonial swords can be seen in a case;
and on the wall, below a portrait of Ulysses Grant, a single barrel musket.
Single Barrel Musket, U.S. Springfield 1864

.
Used black gunpowder.
Unknown provenance.

Presentation Sword

(and Scabbard). Leather scabbard with brass ferrule is engraved

Capt. B. L. Greaves Presented to him by his fellow soldiers of Comp. G 10th Regt. Conn. D. April 23-62

. His name is also engraved on the hilt. Made by W. Clauberg, Solingen.

Benjamin Greaves

enlisted in Co. G in 1861 and quickly rose to rank of Captain.
This section also displays photos of Stamford soldiers, original and prints, the latter copies from originals in our collection which are too fragile to be shown themselves.
The adjacent corner is devoted to Walter Keeler Scofield, a naval surgeon. There are several photos, personal items, and documents; his Dress Coat and Belt, with the 4 star rank insignia on the sleeves, made by Devlin Co. N.Y., and his Rear Admiral's Hat – a black beaver hat with gilt tassels, braid and Navy button. Inside are initials in gold metal WKS made by Raymold & Whitlock, 39 West 14th Street, N.Y. A display case shows his epaulette box, a sketch book, and other items. Below are some samplings. There are also other Rear Admiral's hats on display in the gallery.
| | | |
| --- | --- | --- |
| | inside the hat | |
At the center rear wall, below the British flag, there are various items used in the field by the troops, such as canteens, a camp teakettle, eating utensils, a sewing kit, belt buckle, shot pouch, powder flask, cartridge box, fuse, percussion cap pouch, and civil war spurs. A sampling is below:
| Camp Teakettle | Sewing Kit | Powder Flask | Canteen |
| --- | --- | --- | --- |
| | | | |
Camp Teakettle. Tin teakettle with pewter knob on lid, engraved "Capt. B. L. Greaves, Co G, 10th Conn. Volunteers." Cartouche behind spout reads Thomas Griff's Patent.
Sewing Kit. Made of blue denim bound with red tape, this kit belonged to Latham Allen Webb. He was born and raised in Stamford but moved to Bridgeport as a young man to learn his trade as a sash and blind maker. While there, war broke out and he enlisted. He served in the Second Connecticut Light Battery. After the war he lived in Brooklyn but returned to Stamford in 1882 to work at a woodworking plant in Waterside. He died in 1913 and is buried in Woodland Cemetery.
Powder Flask. Brass and bronze flask is embossed with an eagle, 13 stars, E Pluribus Unum and Colts Patent. Mechanism is missing from top.
Canteen. Wool cover and cork and chain. Paper label : Presented to the Wm. A. Minor Post # 85 by Isaac D. Hedges, who used this canteen in the Civil War from 1863 to 1865. Isaac D. Hedges, Co. H, 1st Reg. Conn. Vol. Artillery, Middletown. Date of muster, November 27, 1863. As of 1926, Hedges was the only living member out of 35 charter members of the Wm. A. Minor Post, founded December 10, 1892.
The Hallway
The Halliday Gallery II
The Halliday Gallery III