The Stamford Historical Society Presents
Stamford's Civil War: At Home and in the Field
a 2003 Exhibit and more
Virtual Tour: The Hallway
This Civil War Exhibit aims to reexamine the national conflict through the lens of local history. It opens with an introductory panel on the right side of the hallway.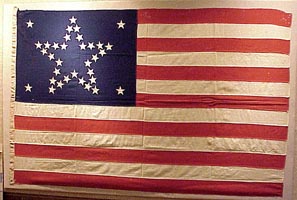 The centerpiece of the hallway display is a 34 Star Flag, hand sewn of wool and silk with a striking arrangement of appliqued stars in a star shape, of unknown provenance. The national flag with 34 stars first served under fire July 21, 1861 at the first Battle of Bull Run. It was not until 1912 that official specifications of design in the stars and stripes were established.
Maps and regimental histories explain the involvement of the Stamford soldiers and the battles they fought. A group of photos of Citizens Soldiers, on loan from a collector, introduces the many faces of the Union soldier. A panel lists the Stamford Irish Volunteers. Information on the 29th (Colored) Regiment can be found in the Halliday Gallery.
An oil on canvas painting is a poignant contrast, whose tranquil landscape bespeaks the quiet beauty of the rural and small town Stamford the soldiers left behind, Dumpling Mill Pond, Stamford, Connecticut by A.C. Howland (1838-1909), who was a well known American artist and member of the National Academy of Design in New York City. The pond was on the Mianus River in the Stillwater-Roxbury area. Evidence of one of the mills owned from 1835-1872 by Theodore and John Davenport is in the background.
A book of poems by Charles Henry Crandall, a North Stamford resident, lays open at a patriotic Civil War song Lincoln's Boys, which was performed to the patriotic tune Marching through Georgia at a pageant in the Stamford Theatre.
The Homefront is introduced with a detailed Civil War Timeline for Stamford and photos of prominent Stamford citizens who were instrumental in the raising "of men and means for the war," securing pledges and donations, recruiting troops, and generally keeping the homefront actively involved.
The photos shown here come from the rare book Picturesque Stamford 1641 - 1892: A Souvenir, by Edward T. W. Gillespie, 1892. A narrative history of the Civil War era from this book (Chapter XII) has been reproduced on our website: Stamford and the Civil War.
War bonds and other related items are displayed also.
The Halliday Gallery displays an abundance of Civil War related items, mostly from the Society's extensive holdings, which we are pleased to show off to the public!
The Halliday Gallery I
The Halliday Gallery II
The Halliday Gallery III