The Stamford Historical Society Presents
Stamford's Civil War: At Home and in the Field
a 2003 Exhibit and more
Virtual Tour: Halliday Gallery– II
The next wall is mainly given to Captain Marcus Waterbury. The Society was fortunate recently to be able to acquire the portrait above. The oil painting on canvas of Captain Waterbury is set in a classic Civil War period wood and gold leaf frame.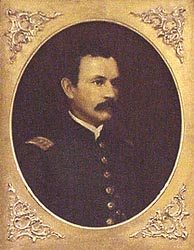 Captain Waterbury's sword can be seen in the case below the portrait. It has been loaned to us from a private collection.
The next corner talks about the homefront from the woman's point of view. Stamford women were involved in the Stamford Ladies Soldiers' Aid Society. We cannot show much about them: A search in the photo collection of photos from the Civil War era revealed that photographs were taken of husbands and children, but rarely of wives. The display case in the center of the gallery shows only two women from the long list of those involved: A miniature of Mrs. Truman Smith, when she was still a young Mary Ann Walker Dickinson, and a photo from a drawing of Miss Catharine Aiken, who for years ran her own private school.
However, we are pleased to show a period dress from our collection as well as a slipper chair:
Beige and blue plaid cotton dress. With fitted bodice, cartridge pleated skirt and pagoda sleeves. Circa 1864.
Slipper Chair. Elizabethan Revival mahogany chair with upholstered seat.
Probably English, circa 1840.
The built-in glass cabinet on the final wall is full of souvenirs, and some head gear. Here is a sampling:
Souvenir from Libby Prison

cannon ramrod from Fort Walker

Field Cap

"Seated Lincoln"
Souvenir from Libby Prison. A fragment of wood from Libby Prison located in Richmond, Virginia. Paper label reads: This is a true piece of Libby Prison taken about two years after the war was closed by ________ boatmen.
Libby Prison was housed in three wooden warehouses and conditions were wretched. Disease was rampant, food was scarce and many Union prisoners did not survive the ordeal.
Field Cap. Red and blue crown with leather peak. Label: National Uniform Cap Co. 304 Fifth Ave. NY new address 216 Sands Street, Brooklyn, N.Y. Original owner was John W. Palmer, Co. H, 14th Infantry, N.Y. Volunteers. Palmer lived on Shippan Avenue and helped build the Stamford Lighthouse. He was born in 1840, died in 1912, and was buried in Woodland Cemetery.
"Seated Lincoln." Plaster bust by Gutzom Borglum, 1912. The original is in Newark, N.J. A full-size copy is in downtown Stamford's Veterans Park. Borglum poured a small edition of these busts and sold them to raise money for Mt. Rushmore.
| | |
| --- | --- |
| Uniform Buttons | Blue Peaked Wool Cap |
Brass buttons from an officer's uniform worn by Major General William Tecumseh Sherman. He was a descendant of Samuel Sherman, who was among the first settlers of Stamford in 1641.
Blue wool cap with black leather peak (visor) and embroidered G.A.R. 120 patch. Leather headband is initialed C.H.C. Label inside, J.A. Jote & Co. 86 Nassau Street, New York Military Supplies.
The Hallway
The Halliday Gallery I
The Halliday Gallery III