The Stamford Historical Society Presents
Stamford's Civil War: At Home and in the Field
a 2003 Exhibit and more
Virtual Tour: The Halliday Gallery – III
Finally, there are two display cases in the center of the gallery with sundry items.
The case closest to the door contains the two images of leaders of the Stamford Ladies Soldiers' Aid Society mentioned earlier, Mrs. Truman Smith and Miss Catharine Aiken.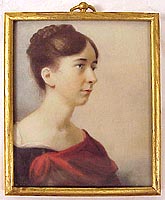 At right: Mary Ann Walker Dickinson (Mrs. Truman Smith), 1824-1891.
Watercolor on ivory.
Miniature portrait of Mary Ann at age 22 before her marriage to Senator Truman Smith. She was the adopted daughter of the celebrated miniature painter, Anson Dickinson, and grandmother of the donor, Charlotte D. S. Cruikshank. She served as president of the Ladies Soldier's Aid Society and organized regular visitations to minister to sick and wounded Union soldiers in hospital on David's Island, N.Y.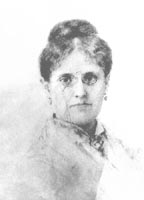 Miss Catherine Aiken.
Photographic print from a drawing.
In April 1855, Kate Akin, a 27-year-old Quaker school teacher from Cape Cod moved to Stamford to become principal of the Stamford Female Seminary, a recently chartered private day and boarding school for girls. She later became the proprietor of the seminary, renamed The Catherine Aiken School. She was Secretary of the Ladies Soldier's Aid Society.
Read more about Catharine Aiken.

Stamp issued at Sanitary Fair to raise money for the purchase of medical supplies for the relief of sick and wounded men in Union Civil War Hospitals. A post office staffed by attractive young ladies sold stamps. It bears a design of an artillery section with a sentinel resting on his musket.
Designed by an unknown artist, the stamp was printed by a Mr. Campbell. The original lithographed stamp was printed in violet-brown ink in sheets of eight. This stamp was later reproduced on various colored papers. Today even copies are rare. The Stamford Historical Society has one copy.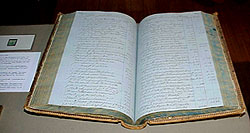 Account Book of Lyman Hoyt, Genearl Household Merchandise and Undertaking.
The book is open at the ledger entry dated 4 November 1863, regarding funerary service expenses made out to Mrs. Frederick Peck for her son Thoedore H. Peck, who served as a private in Company A, 28th Regiment Connecticut volunteers.
More
on Private Peck, and the beginnings of undertaking services.
There are letters to Mrs. Truman Smith and a sampling of correspondence of Private Gilbert Smith, Company B, 6th Connecticut Regiment Infantry to his father. The letters contain descriptions of war campaigns, camp life, and longing for home.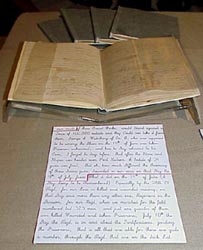 The second case displays the diaries of Noah Webster Hoyt and a pocket diary of Sylvester L. Scofield, Company A, 28th Regiment, Connecticut Volunteers, as well as an ambrotype loaned to us of a unnamed soldier from the 29th (Colored) Regiment, additional photos, and more.
Diaries 1862-1863 of Noah Webster Hoyt. Noah Webster Hoyt, a carpenter and single man, was 26 when he answered the call and became part of Company A, 28th Regiment, Connecticut Volunteers and part of the last of the nine month's regiments to be formed in the state. Noah kept a diary. His entries were accurate, informative, often humorous. Contained in five small notebooks, the simple phrases in his diaries tell the story that reaches across more than a hundred years to touch the heart.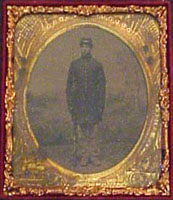 Ambrotype of unnamed soldier
from the 29th (Colored) Regiment
The Halliday Gallery I
The Halliday Gallery II
The Hallway