The Stamford Historical Society Presents
Stamford's Civil War: At Home and in the Field
a 2003 Exhibit and more
The Civil War changed funeral customs
The exhibit displays the Account Book of Lyman Hoyt, General Household Merchandise and Undertaking.
In urban communities at the time of the Civil War, customs and requirements regarding removal, preparation, and burial of the dead began to change. Formerly, funerals were handled by family, close friends, or fraternal associates. Advances in embalming utilizing formaldehyde and rail transportation facilitated the shipment of both mortuary supplies and bodies. The significant rise in deaths due to disease and war casualties expedited the emergence of a profession known as undertakers. Most proprietors of these establishments combined undertaking with selling of household goods, furniture, china, upholstery, and chair rentals.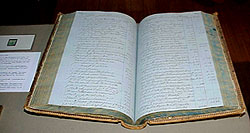 Included in the entries of the account book is one dated 4 November 1863, made out to Mrs. Frederick Peck. These are the funerary service expenses for her son Theodore H. Peck. He served as a private in Company A, 28th Regiment Connecticut volunteers. Stricken with fever during the campaign on the Mississippi River, he somehow managed to return home. After lingering illness he died at the age of twenty-seven years. Thus it obliged his widowed mother to make the arrangements.
Editor's Note: from Lyman Hoyt's Son & Co. as of 1892 it seems that Lyman Hoyt was in the undertaking business as early as 1837.