The Stamford Historical Society Presents
Stamford's Civil War: At Home and in the Field
a 2003 Exhibit and more
Online Links, Genealogy, etc.
Civil War in Connecticut/Stamford Online
The Seventeenth Connecticut Volunteer Infantry
Civil War Pension Index at Ancestry.com
Citizens of Color, 1863-1890: Military and Political Participation, from: A Struggle from the Start, The Hartford Black History Project
Research Guide to Civil War Materials at the Connecticut State Library
Regimental Histories
Connecticut Regimental Histories
Union Regimental Index
Regiments & Muster Rolls
2nd Connecticut Volunteer Regiment
16th Connecticut Volunteer Regiment
17th Connecticut Volunteer Regiment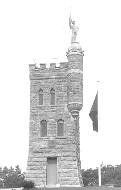 …The delegation of visiting dignitaries was led by Governor Morgan G. Bulkeley. In the parade the position of honor was accorded to veterans of the 2nd Connecticut Heavy Artillery, "The Old Litchfield County," 450 strong. Other participants in the line of march included eight G.A.R. posts, military units, bands, guests, town officials, and 100 carriages. The principal oration at the dedication ceremony was delivered by the Honorable Samuel Fessenden of Stamford, Civil War veteran, lawyer, and politician, who discoursed at length on the debt due those who fought in the holy cause against the slave-holders' rebellion that sought to destroy the Union. The final third of the dedication ceremony had to be cancelled because of rain…
Westover Cemetery, Stamford, CT…Collection of Headstone Inscriptions resides at the Connecticut State Library...of the Sons of Union Veterans of the Civil War…
Contains 1,118 photographs. Most of the images were made under the supervision of Mathew B. Brady, and include scenes of military personnel, preparations for battle, and battle after-effects. The collection also includes portraits of both Confederate and Union officers, and a selection of enlisted men.