Photo Archivist's Selection of the Month: December 2009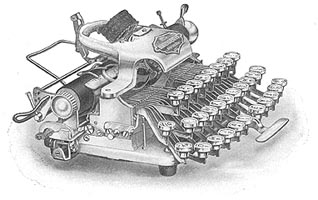 A Reprise: The Portable Typewriter and its Uses, 1913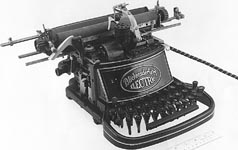 As readers may know, we are in the process of re-designing the society's website, and right now this involves a lot of grunt work (and does not leave much time to research our photographic resources for the monthly photo selections). Along the way, we come across a lot of interesting, or so we think, material. Today, it was the Blickensderfer typewriters. George Canfield Blickensderfer (1850-1917) developed typewriters that were way ahead of their time, including the first electric typewriter, which the Virtual Typewriter Museum describes thus:
In 1900 George invented a breathtaking electric typewriter (pic 5) that in functionality and speed was not matched until IBM introduced the famous golf ball model half a century later. Although the machine was advertised, sales never got off the ground and only three samples of the Electric are known to exist today.
Unfortunately, due to the advent of the first World War and Mr. Blickensderfer's death in 1917, the Blick Electric never reached the market. What's left behind aside from the three samples is an entertaining brochure.
This Portable Blickensderfer Typewriter is among the models which the Stamford Historical Society is proud to own: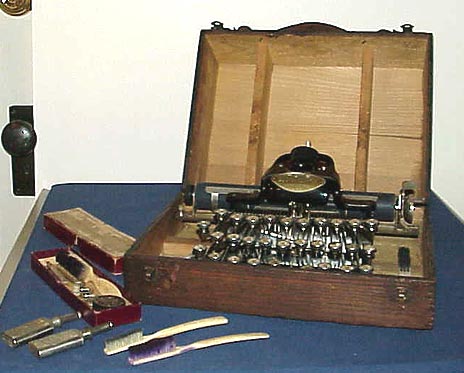 Photo © Stamford Historical Society
Without further ado then, here is the delightful amply illustrated article from a 1913 Guide to Nature issue:
Blickensderfer Typewriters
George Blickensderfer at the Virtual Typewriter Museum
The Manufacturing Plant
Electric Typewriter
Made in Stamford
The Virtual Typewriter Museum
Other Photo Archivist Selections of the Month
Photo Collection Information