Picturesque Stamford, 1892
Manufacturing Industries, pp. 241-242
THE ST. JOHN WOOD-WORKING COMPANY.
After the removal to Canal Dock, the manufacturing part of the business of St. John, Hoyt & Company attained such proportions that it was decided, in 1885 to separate the manufacturing from the mercantile business. A stock corporation was formed under the name of The St. John Wood-Working Company, with a capital stock of $40,000 in shares of $100 each.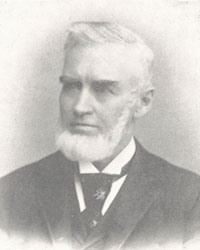 John St. John
The first officers of the new company, who also held all the stock of the same, were: John St. John, President; Harvey Hoyt, Vice-President; William H. Judd, Secretary and Treasurer; Edgar Johnson, Manager.
Mr. Johnson was fitted for the supervision of the work by a large and practical experience in New York City and elsewhere. The company entered at once upon a prosperous career, which has been continued without interruption. In 1888 the capital stock was increased to $80000, the capacity of the mill was doubled and large additions were made to buildings and machinery.
The present officers are: Walton Ferguson, President; Charles H. Getman, Vice-President; E. P. Lansing, Secretary; William H. Judd, Treasurer; Edgar Johnson, General Manager.
The milling and manufacturing plant occupies a floor space of 70,000 square feet. All of the latest improvements in machinery and labor-saving appliances in this line of manufacturing are to be found in the buildings. There is a thorough system of kiln-drying, and the storage sheds always contain sufficient kiln-dried material to furnish several months' supply. The facilities for handling the lumber save a vast amount of labor.
The main building is three stories high. It is heated by the Sturtevant hot-air system and lighted by electricity furnished by a plant on the premises. An automatic sprinkling system is used for protection against fire. The shavings from all the machines are carried by exhaust fans to the shaving-house adjoining the boiler room. The salesroom and store-houses are directly on the line of the railroad. The company's offices are roomy, neatly furnished and convenient.
The company has established an enviable reputation for turning out high-grade work. Fine carvings, veneered work and hardwood trimmings are made by skilled workmen, of whom there are about 150 employed. Many business houses and fine residences in Stamford, New York and elsewhere, contain specimens of the company's work in elaborate interior finish in natural wood.
Among the buildings in Stamford, the interior trimmings of which have been made by The St. John Wood-Working Company, are the Presbyterian Church, St. Andrew's Church, Stamford National Bank, the Fessenden, Brown, Coghlan, Bell, Smith and Lawrence Blocks, Trust Company Building, several public school houses, the residences of J. I. Raymond, George A. Hoyt, Rev. R. P. H. Vail. D.D., Harvey Hoyt, C. Cooper Clark, A. H. Smith, H. K. McHarg, Dr. John Lord, W. L. Pomeroy, Rev. Samuel Cooke, D. D., houses on South Street owned by Walton Ferguson, the Millbank house, Putnam Hill, Greenwich, and the residence of R. Duncan Harris, Riverside, Conn.
Other buildings upon which the company's workmanship may be admired are the Cancer Hospital, 8th Avenue and I08th Street, New York; New Jersey Central Railroad Building; Columbia Building, 29 Broadway, New York; N. Y. N. H. & H. R. R. Stations at Harrison and Rye, N. Y.; dwellings on Rhinelander estate, 89th Street and Lexington Avenue, New York; four houses of J. V. S. Wooley, Mt. Morris Avenue and 121st Street, New York; four houses of Daniel Hennesey, Mt. Morris Avenue, and I2Ist Street, New York; four houses of Daniel Hennesey, 7Ist Street and Madison Avenue; houses of Walter Reid, 54 and 56 East 92nd Street, and 9Ist Street and Madison Avenue, New York; residence of Charles Sooysmith, Greens Farms, Conn.; residence of W. H. S. Wood, Mead's Point, Greenwich; Guild House of St. Thomas' Parish, Mamaroneck, and numerous places at Belle Haven, Greenwich, and Great Barrington, Mass., etc.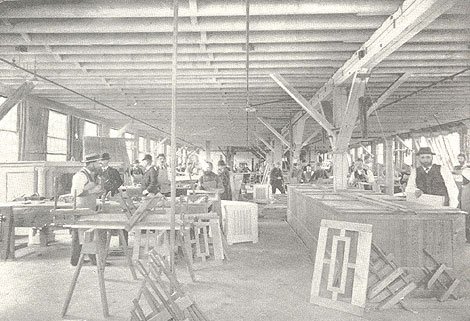 Hardwood and Cabinet Department, St. John Wood-Working Company
Hoyt, Getman & Judd
Obituary, John St. John
Photo Selection of the Month, November 2004
Picturesque Stamford, 1892
Research Library
917.46 Stamford G