The Stamford Historical Society
Presents the Virginia T. Davis, Stamford Historical Society
Distinguished Service Award to
Jennifer Peters
21 June 2004
Address by Katie Brown, Volunteer and prior recipient of the award
Good evening. It is a pleasure for me to present this year's Virginia T. Davis, Stamford Historical Society, Distinguished Service Award to one of our most outstanding volunteers. This tribute is given in memory of a remarkable person, whose devotion to the City of Stamford through this organization was summarized in a 23 March 1983 Advocate Editorial. "[Virginia] believed that a community's sense of its own history gave it a solidity and depth that it otherwise would not have. She was right in thinking so."
Most individuals elect a major in schools of higher education, gaining knowledge of that particular discipline as they move on into other fields of endeavors. It is the exception rather than the rule for someone to embark upon a career based primarily upon their initial collegiate accomplishments. Our honoree is among the select few who have done exactly that. Graduating from Washington University, St. Louis, Missouri, in 1964 with a degree in fashion design, she moved to New York City, where she began her career at the hub of this industry, the garment center.
As with many professionals working in New York, she and her husband Michael decided they wanted to live in a suburban area and commute to work. Of the locales under consideration, they chose Stamford in 1968. By selecting this community, they not only enhanced their own lives, but others whom they came in contact with as well. Their initial choice of a residence was a dwelling on the very upper portion of High Ridge Road almost into Pound Ridge, New York. It was quite old and had a lot of appeal, but needed a considerable amount of work, so initially they considered it as a "starter" house. Today it still their home, carefully restored, an attractive component of Stamford's architectural heritage.
In her quest for information on this structure she came in contact with the Stamford Historical Society, eventually volunteering to serve on the Textile Committee. Through the endeavors of the Textile Committee, an important series of exhibits were produced, receiving recognition in both The Advocate and The New York Times. Among them were: Summer Whites in 1988; Stamford Ladies Fashions, 1840-1970 in 1989; the highly popular Wedding Belles: Bridal Fashions Then and Now, 1992; and Stepping Out: Finery from 1880 to 1920. An integral part of the work in forming these shows was, if feasible, cleaning, mending and reinforcing the textiles, and upgrading their records and storage containers; areas in which our award recipient's knowledge proved to be of great value.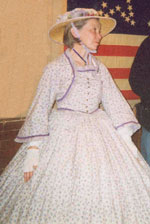 As part of the Society's contribution to the observances of Stamford's 350th Anniversary in 1991, a commemorative quilt designed by our award recipient was produced. This project involved many individuals who donated their time in refining sketches of the quilt's blocks and stitching them. Once again the effort in fabricating this remarkable tableau of the city's history in textile was well received.
Today she continues to assist with exhibits such as preparation of the flags and a Civil War Naval surgeon's dress uniform for Stamford's Civil War: At Home and in the Field, and assisted in the opening of this as a reenactor in costume of that era. For over twenty years she has continued to freely give her specialized expertise in the field of textiles. Such an individual's important contribution to this organization is valuable and very much appreciated.
It is with high regard that I now present the Virginia T. Davis, Stamford Historical Society Distinguished Service Award to Jennifer Peters.
Photos © Stamford Historical Society
Awards
Volunteer Opportunities