Photo Archivist's Selection of the Month: May 2008
The C.O. Miller Department store, a longtime fixture in Stamford, had its last location, beginning 1933, at 15 Bank Street. Although the property parcel was not slated for urban redevelopment, it was photographed all the same during the urban renewal process. On the map below, it comprises Parcels 9 and 11 of Block 12, labeled "Properties not to be Acquired and subject to Conservation Standards." A Google Satellite map shows the property still totally intact.
As we have various pages on this website about Charles O. Miller and his department store, these late images fit in nicely.
The C.O. Miller Company was a fixture in Stamford for 106 years. Founded in 1868, the store was originally located at 53 Main Street. The next location, by September 1870, was at Washington Place. In 1882 a new store was built on Atlantic Square, 53 Atlantic Street. Major additions and changes to the store were made in 1916. The store moved to 15 Bank Street in 1933, where it remained until its closing in 1973. At that time, C.O. Miller was no longer a family business, but was owned by Supermarkets General Corp. of Woodbridge, NJ and named "The C.O. Miller clearance department store." Earlier, the name had been changed to "Howland," part of Genungs's Incorporated, a section of the above Supermarkets General Corp., according to a Stamford Advocate article dated September 14, 1970. The photos below were taken in the late 1960s when the name was still "C.O. Miller's."
Relevant Map Section
Bank Street, Block 12, Parcel 9 (and 11, see aerial views below for better orientation)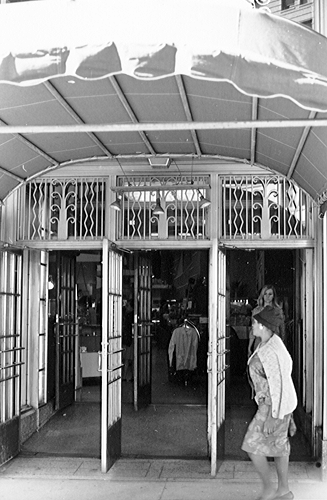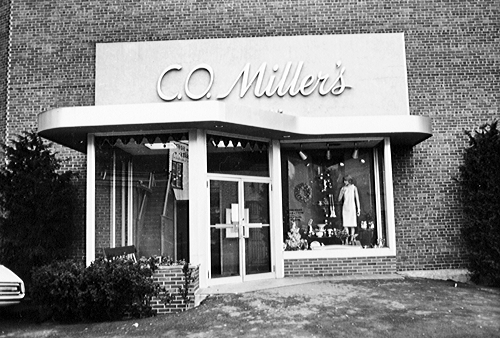 Side Entrance on Clark Street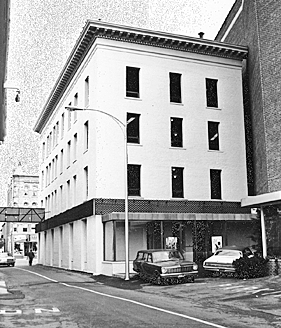 Parcel 10 (adjacent building on corner of Bank and Clark)
Clark Street, Block 12
"Clark Street Views 2"
"Clark Street Views 1"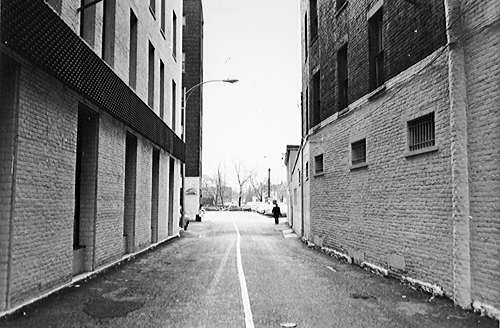 Images and Map Courtesy The City of Stamford, Connecticut, Urban Redevelopment Commission
---
To show the location, below are two aerial views from the Society's archives, taken about 1948 by Senix Aerial of White Plains.
| | |
| --- | --- |
| In the background: Atlantic Street with St. John's Roman Catholic Church. | At left: Main Street, with Stamford Savings Bank. The Little Red Bank, and the Old Town Hall towards the top of the photo. |
Mr. Miller passed away in 1919: Obituaries.
NOTE: Any Stamfordite who has recollections, stories and/or is willing to donate or loan photos about the C.O. Miller Store, is encouraged to contact The Stamford Historical Society, either by mail (1508 High Ridge Road, Stamford, CT 06903), fax (203-322-1607), or e-mail. We will gladly scan or otherwise reproduce any photos loaned to us.
Picturesque Stamford 1892: C.O. Miller
The C.O. Miller Company
Philosophy and Photographs in a Store, 1912
The Development of a Big Store, 1916
Completing Fifty Years in Business, 1917. The Remarkable Half Century Success of Mr. C. O. Miller as Evinced in the Astonishing Development and Present Prominence of The Miller Store.
Downtown Stamford Urban Renewal
Full Map Section 2
Other Photo Archivist Selections of the Month
Photo Collection Information