The Stamford Historical Society Presents
Pride and Patriotism: Stamford's Role in World War II
Online Edition
The Interviews
Eleanor Brinckerhoff
Eleanor Brinkerhoff left a career in a private girls' school to support the war effort, initially working for Sikorsky Aircraft. After Navy officers' training school she was later assigned to Philadelphia where she oversaw the flow of parts required for Navy aircraft. She was responsible for tracking parts as well as supply and storage of part in Navy warehouses.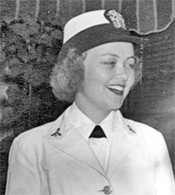 I majored in animal husbandry at UCONN, and taught school in Vermont and Virginia after. When WWII began I was down in Virginia and felt that I should do more for the war effort than work in a private girls' school. Sikorsky Aircraft, Stratford, manufactured F4 fighter aircraft, so went to Bridgeport to offer my services, passed the training program, there were few women with any manual skills with instruments etc. at that point.
I was sent to school in Bridgeport to train women in the use of power tools in manufacturing of aircraft. About six weeks… I had to learn to measure and drill parts of metal….parts had to line up with other parts in building the aircraft… They had to be exact and accurate.
Eventually I was sent to Sikorsky Aircraft, Stratford out on a spit of land by itself, one had to cross swamps from Bridgeport. I worked over there. I was put on night shift that started at 8 PM and went till 4 AM, not a favored time. We assembled points of reference of connection for F-4 radiators that were mounted on outside wings, port and starboard, that recycled air back into engine. Aircrafts had to be tight.
For nine months I worked at that, on my feet 8 to10 hours a night and tried to sleep in day time, which was difficult. In meantime the Navy was offering positions in service for women with military interest that could contribute. I went to New York, 90 Church Street, the Navy Recruiting Center. I interviewed, had a medical report and was deemed physically able. I left Sikorsky about two weeks before reporting to training duty for the Navy in Northampton, MA in the officers program…
Womens' dorms at Smith were turned over to Navy. I was up there for thee months in Naval Procedures, History Navy, etc., to get familiar with sections of Navy. In September of 1943 I went to Philadelphia. Women were never allowed to be active duty on Navy ships. Some captains didn't want women at all. I was sent to an aviation supply office in north Philadelphia, 14 miles from city center. I had to find my own living accommodations, enlisted men got housing and hotels downtown, etc. …we had to find our own. The Navy did provide us with lists of boarding and housing…some people had moved out of their own houses. I found accommodation 7 to 8 miles from the station. I was assigned to HQ for keeping track of naval aircraft equipment in use all over the world. It was the first time the Navy had such a dispersal of a whole inventory of ships all over the world. I was assigned to keep track of the material to be used for cutting out parts and manufacturing aircraft wings and other structuctal parts, because of my background at Sikorsky's.
The station I was assigned to had 3000 people, many officers, enlisted too. I had to do secretarial work. It was important because in the 40s there was no sophisticated equipment, lots of records were kept on paper inventory, etc. I worked on production of aircraft catalogue of various materials, nut, bolts, screws, aircraft parts. The Navy was very cohesive early on and didn't need catalogues early on, there were lots of supplies on ships and depots across country. The Navy seagoing service was very organized. I developed a catalogue that reflected the way part numbers were assigned to parts of aircraft engines, etc … It was a very interesting service but it could be tedious, because I was tracking numbers to parts, and doing part identifications, etc. In order to facilitate identifications, the Navy hired people to draw parts, you couldn't really photograph them…nuts, screws, etc. The parts were assigned a number and a classification in the warehouse, so materials could be grouped together. The Navy was very particular, on board ship things had to be exactly where they had to be…same system on land.
I worked in this capacity three years till 1946. After war ended in 1945 there were still lots of needs for material shipped back also from overseas that had to be secured in warehouses. The aviation supply office constructed a huge warehouse that could house planes even, but inside full of storage facilities, there were racks for parts for engines, etc. Women were hired at the end of war to see to it that items were stored in order. We would sit up there by hour making sure things were in the right place and properly housed on shelves with ID cards and part numbers.
I wonder whether the warehouses are still there and full of antiquate stuff.
Our office was huge at least 1/4 mile long…built stretched out up to 3 stories high but mostly only 2 stories. There were no elevators, one had to go up and down stairs. The CEO in middle of building near the only elevator…
90 percent of the people were civilians who gave up connections to make service to Navy, lots of civilian women…lots of women in uniform too.
An old navy chief was assigned to CEO's office, sometimes he used to come out and stand at the intersection of the aisle of the building and look up and down the aisle. One day someone asked the chief, what are you doing, he looked up at women and said I'm just recharging my batteries.
On off time I went into Philadelphia and saw the city. One could also go down to the Navy Yard, because we were Navy personnel and one could see parts of the operation down there.
At the Aviation supply office not many men were assigned there who were regular Navy. The whole place was designed to make use of as many people as possible. Men were always pleasant, many were enlisted, some had served long period at sea with interesting stories… I remember one man, I had a half dozen people working under me, and this man had been on a ship that had gone down in the Atlantic, had managed to be rescued, then continued in Navy, but lots of people who had different experiences where they had been in Mediterranean…etc.
We got bits and pieces of experiences of people who had really been at the front of the war, in the Pacific, Mediterranean, etc. The Navy gave people time to rehabilitate for land duty, then reassigned them.
This was the first time military had women in the service. No need before because there were enough men to do the work. Women trained as radio operators and manufacturers, etc. all over the country. They were not stationed on ships, because these were not designed to properly house women. Secure islands in the Pacific even had women on staff. This was the true beginning of women in the military.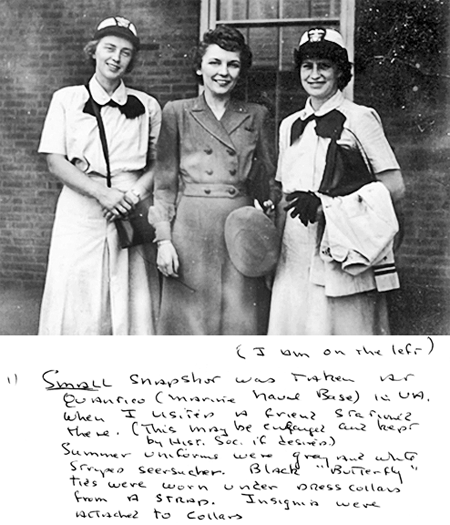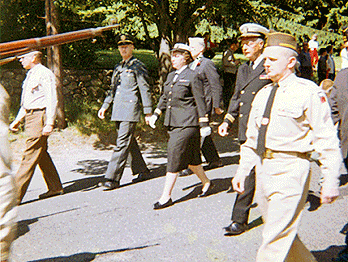 "1976 New Canaan Memorial Day Parade, EHB in step"
All Photos Courtesy Eleanor Brinckerhoff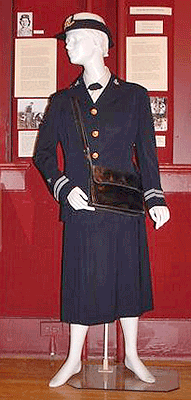 WAVE Uniform worn by Eleanor Brinckerhoff
Hat is a Commander's hat belonging to Annette Smith
Courtesy of New Canaan Historical Society
Robert Brinckerhoff (brother)
Introduction
Veterans
Battles
Stamford Service Rolls
Homefront
Exhibit Photos
Opening Day