The Stamford Historical Society Presents
Pride and Patriotism: Stamford's Role in World War II
Online Edition
The Interviews
Ralph Chamberlain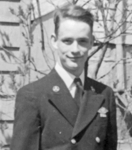 I graduated from Stamford High in 1943. The draft was on and there were tests in high school one could take for officer training programs.
I took the test, passed and went to Hartford, I had a physical exam and failed the eye test. I was told "the army will take you but not the air corps." At that point the Merchant Marine was recruiting for their office school at the Chrysler estate in Great Neck, Kings Point, Long Island.
Merchant marine officers were divided into two division deck officers and engine officers…although I wanted to be on deck, an offer of engine room placement came my way. In the Navy I became midshipman, while at the same time a cadet in the maritime service.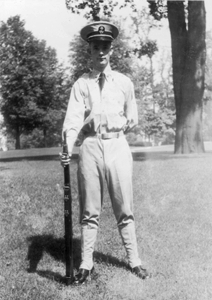 I had to report to Wall Street to take a physical. I was accepted into the program and sent to basic training school in San Mateo, California, October 1943. We reported to San Francisco and went out by rail. I went to San Mateo, Coyote Point. Basic School …
It was a 3 month program…sometime during to training, we had life boat training and were forced to spend the night out in the bay. Lifejackets were made of cork then. If you jumped off the boat, you had to hold the jacket down, otherwise you could get injured when you hit the water. From 8-5 the teaching program ran during the day… there were obstacle courses etc. …marching in the morning.
When I finished with that I reported to the Black Diamond Shipping Company at San Francisco. We were carrying ammo in ships. I joined the crew of the Abram S. Hewitt as a Cadet midshipmen and an engine cadet. We all had to complete a sea project book…had to draw pictures, sketches of machinery, engine, etc. We had morning watch 4 hours on, 8 hours off. It took 25 days to Australia.
We put in at Brisbane, Australia…dropped off the two planes that they had in the cargo bay. Then went to New Guinea…to drop off bombs on the lower tip of the Papua peninsula…up the coast to Lae. There we unloaded bombs.
I spent nine months in South Pacific…back and forth to Australia back to Sydney, Milini Bay, New Guinea.
They often used the ship as a warehouse for a number of weeks. Our crew was only 27 to 28 guys, but we also had a Navy gun crew on board… 4" guns from 3" guns aft 20mm down the side.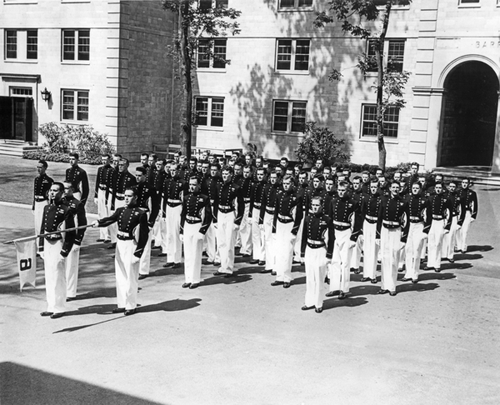 United States Merchant Marine Academy King's Point New York
Group of cadets prior to graduation summer 1945
The Abraham S. Hewitt was a Liberty Ship.
Liberty Ship
Ten Thousand Ton Capacity
Length 410 Ft, Beam 50 Ft
Propulsion: One 2500 Hp Triple Expansion
Steam Engine: Speed 10-14 Knots
Photos Courtesy Ralph Chamberlein

Introduction
Veterans
Battles
Stamford Service Rolls
Homefront
Exhibit Photos
Opening Day