The Stamford Historical Society Presents
Pride and Patriotism: Stamford's Role in World War II
Online Edition
The Interviews
Lewis Jackson
Lewis Jackson graduated from Stamford High in 1941 and had begun his career at First Stamford Bank and Trust Company when the war came along. He enlisted in the Army Air Corps in 1942 and was assigned to the 39th Bombardment Group of the 20th Air Force. He flew 26 bombing missions over Japan in 1945 in a B-29 Bomber named "One Weakness".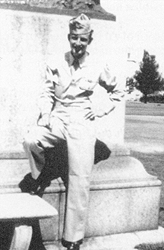 I entered in the US Army Air Corps in December of 1942 the same week my wife entered. The Air Force was recruiting and recruiting and didn't have space for basic training, so they went to Miami Beach and took over a group of hotels, moved civilians out, and we had our Basic Training at Miami Beach, on the beach. The only thing I didn't like about it was, my room was on the 8th floor of the George Washington Hotel but we were forbidden to use the elevators, so I had to run up and down stairs all the time, but the good thing was we didn't need a pass to go into town because we were right in the center of town. I later was sent from Miami Beach to Harrah Field in Fresno, California where I went to technical school and applied for flight training and was sent to Shepard Field, Texas for preliminary work. And then I spent a semester at the Fort Hayes, Kansas State College in Hayes, Kansas, which was the home of the 7th Cavalry. From there I went to pre-flight training in Santa Ana, California and then later on to Laurie Field in Denver, Colorado and from there to Buckingham Field in Ft. Meyers, Florida. I was assigned to the 39th Bomb group in Selena, Kansas where we did our operational training. There we were assigned to permanent crews and in the end we were one of the few crews who flew every mission together. One good thing about that was that it was the middle of winter and that can be a very cold place, so the bomb group was transferred to Batista Field in Havana and we spend the rest of our operational training in sunny Cuba, doing flight training over the Gulf to get in our navigational work and all. Then we returned to Selena in time to be shipped to Guam where I flew and our crew, all eleven, flew 26 bombing missions on the Japanese homeland.
Our plane, the B-29, was pressurized so it didn't get as cold and we didn't have wear heavy jackets like on a B-17. My station was in the CFC (Central Fire Control) at the top of the plane. I controlled the top guns and others as well. I could see 12:00 to 6:00. The name of our plane "One Weakness" was from a character from Lil Abner. We landed on Kwajalein on the way to Guam, then Guam was our permanent base for the rest of the war. Although B-29s could bomb from 20-30,000 feet, bombing at that altitude was less accurate, so we were instructed to bomb from 7,000 feet to improve the chances of destroying the target. Our flights were all 14 to16 hours long, depending on the target in Japan. All targets were on the Japanese mainland.
Most of the raids were night fire raids, and some daylight raids. During night flights we did not fly in formation as it was too risky, but different groups would be assigned different altitudes. The danger was that if another squad flew faster or slower than it was supposed to, one could be above or below friendly planes during drops. The danger from the Japanese was mostly anti-aircraft fire, though their fighters also would come up to get at us. We would drop tin foil to confuse their searchlights. We began fire raids, dropping napalm toward the end of the war. Before we got over a city, our pathfinders would locate the target by dropping bombs over it in an X pattern. The flaming X could be seen for miles. The fires could be so large though as to create a vacuum and planes could be sucked downward, we lost a crew that way.
It was an experience I will never forget. I think often of the casualties that were inflicted on the Japanese people, but it was war and it had to be done.
I had some very great friends in the service. One was young boy from Pittsburgh, Charles Bochinski, he was a tail gunner in our group, and after the war he became Charles Bronson the movie actor. Also we had a bombadier, Tim Holt, his father was a very early movie star in the 1920s-30s. Tim later after the war starred in a number of movies. The one I remember most was with Humphrey Bogart The Treasure of the Sierra Madre. I have very pleasant memories of a lot of fellows.
I was fortunate enough to be a survivor. It was an experience.
| | |
| --- | --- |
| The crew of "One Weakness" – Lew Jackson 4th from left, front row. | North Field, Guam April 1945 |
| Mount Fuji | 39th Bomb squadron plane dropping bombs (top) |
| | |
Images Courtesy Lewis Jackson
United States Army Air Forces / Twentieth Air Force
Overview of Air Force Combat Units of World War II
The Movement Toward Air Autonomy

Introduction
Veterans
Battles
Stamford Service Rolls
Homefront
Exhibit Photos
Opening Day