The Stamford Historical Society Presents
Pride and Patriotism: Stamford's Role in World War II
Online Edition
The Interviews
Dahlia (Pobie) Johnston
Pobie Johnston entered the Womens' Army Auxiliary Corps in December of 1942. She was first posted to Fort Sill Oklahoma as a cook. When Congress reorganized the WAAC into the WAC, dropping Auxiliary from the title, Pobie was retrained in Army personnel administration. She ended the war heading a section in charge of processing discharges and estimates she had a hand in discharging thousands of personnel.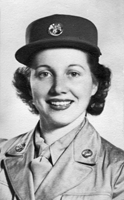 In 1942 Congress created the Womens' Army Auxiliary Corps to support the men who were taking on the brunt of WWII…I was in Pennsylvania, born in Philly, went to school in suburban Pennsylvania in a smaller community, because of the depression we moved in with a family member and I ended up in a rich suburb, and got a good education.
I was working in a defense plant where we made nuts and bolts for airplanes…my family was immigrant and so interested in world affairs. My father was from Poland and my mother from Romania...both came to the country as children. European events were very relevant. With the onset of WWII…we were all ears. I read in the paper that Congress established in May 1942 the WAAC...thought that's for me, I said. The next day off I went to Carpenters' Hall Philadelphia to enlist... I found part way through a man who said you're not old enough…I told him my mom would sign off. I had graduated in 39…The man said I had to be 21…I had to wait for my 21st birthday in December. 42. We were working in a war plant seven days a week, so I took the day off went to enlist with clear intent that I would win the war for the US…I had no idea what I was going to do...just want to get in.
I didn't ask my mom…it was a given. I had two brothers. My mom had already signed a waver so my younger brother could enter the service. My older brother was in a hospital where they trained nurses, and he was deferred up until about 2 months of his 26th birthday, then he was drafted. My mom worked at a war plant. So I had to wait for orders. I took off from Philadelphia and went on a train to Daytona Beach, Florida. We lived in a luxury hotel because there weren't enough places for us. We had 6 weeks of training in the hotel. It was just training to be in army, articles of war, structure, schedule, running, batteries of test before breakfast even…it was hard to understand, they were training soldier with broomsticks because they didn't have enough guns...etc.
There were lots of tests. We were marching in the sand in high heels because there were no uniforms or shoes given to us. After Basic Training we were put on a train, issued heavy overcoats, wool, socks, etc., ill fitting uniforms, one of everything…we thought we were going to Alaska. You couldn't write home, you didn't know where you were going. Most people on the train were from New England…we were all city girls from Massachusetts, Pennsylvania, New York …mostly young girls…no one had traveled or gone to Florida then. We tried to look out the windows for markers. We had to stop the train to get food…it was our first exposure to hominy and grits etc. of the south. We were interviewed on the train to determine our assignments. After four days, March 4, 1943, we arrived at Ft. Sill, Oklahoma. I knew where that was. It was 9:30 to10 at night. Women had never been there before, it was an old old army post and big!
We were elcomed by soldiers with cocoa and cookies, then assigned beds. Every other bed had been short sheeted. People cried…it was not a nice reception, but it was ok with me. I was just a private at this point. Our assignments were on the bulletin board the next morning. So I was a cook. Nobody was supposed to cook who had not gone through their cooks and bakers school, it was a speciality, but I didn't know that then. I was not brought up to question…One of my COs said that it was because I had wanted to be home economics teacher and I had worked in a tea room prior to the factory work I did.
I was introduced to the kitchen and food and menu on the wall. I would make things up as I went along, based on my tea room experience. I knew the girls didn't always want what was on the menu. Meats with gravy etc… I guess there were 200 girls. We had shifts too. I was told not to waste anything. I didn't know about inspections. The Major looked at what I was doing and questioned a lot… I was a pretty good cook. Eventually they closed the kitchen and made us eat with the men.
The shifts were 5 AM to lunch or dinner to breakfast…the other cook was trained. She would cook string beans all day till they were gray, I steamed mine so they were green…we had very different styles of cooking. Another thing, breakfast was at 6 to 7 AM on Sunday. I went to a CO and suggested breakfast to order till 11 AM, then Sunday dinner would be at 3, then a buffet later. The CO went with it, it was logical. Later the army decided that it didn't work…they shut down the separate women's cafeteria and we ate in the men's mess. They were determined to take us into the regular army, we were to be the WAC without auxiliary… you were discharged or re-enlisted as a WAC. All of our assignments were re-evaluated…I was told I couldn't be a cook. I had very high scores on tests… I had to do something else, administrative work. I had to teach myself to type.
I was a cook from March 4 to August 8, when I became a WAC. June '43, my brother in the 8th Airforce was killed. He was a bombadier. On the night of June 13th he went in over Germany unescorted by fighters. The raid was succesful…they bombed an armor plant..heavy casualites… He was buried in England.
I was reassigned to the personnel office at Ft. Sill, people were being sent over into battle and later with the Bulge…soldiers were swept out of classes, where they were learning to speak Japanese, to go to Europe. I was in the 1864th Service Unit. Women were in a support position. We were in the 8th Service District. Ft. Sill was for training of field artillery and infantry. We were a HQ unit, overseeing who went over, which groups got trained, etc. I got moved into an old HQ building, there were also those dealing with quartermaster stuff, and a hospital...
The army was like a substitute for college, my older brother went to Temple University at night and took 10 years to get his degree, he never did other requirements. My education was in the army. I had a mindset of learning…I was learning as fast as I could…learn administrative stuff. I was sure I would go overseas…then I was in office deciding who went, but never went overseas.
In December1944…the Battle of the Bulge was going on, but we were moving to the finish of the European war. We were in preparation to send soldiers to the Asian theatre. They established training places for how to discharge people. They established a point system early on. I had to train people to process discharges…I was sent to Camp Lee, now Ft. Lee, Virginia, where there was an adjutant general school to teach us how to read the service records with battles, etc. I was amongst first women to go to that. Once again we were integrated with men, maybe 50 women out of class of 1000. I spent 6 weeks, and was there during VE-Day. Clearly the turning point…now we were sending troops back through to Asia. I was sent back to Ft. Sill…then to a separation center in Camp Chaffee, Arkansas, then to Ft. Smith, Arkansas up in the hills. There were huge barracks…men unloaded off train. Those with points were discharged. One had to be through the process in 48 hours. Discharges had to be typed, and included medical forms, on manual typewriters, carbon paper…lots of people in the typing pool. I was given the job of heading a section…I taught how to read service records to glean all relevant information, so the soldier got everything coming to him, which meant you had to be familiar with all the theatres of war, which battles were fought, which companies and outfits were there. Sometime traced by unit … somethings not entered, pages missing, etc., administrative nightmare.
The army had sent young men to Officer Training Schools still…we called them 90-day wonders, they were sent and every discharge had to be sent to an officer for a signature…all they did all day was sign discharge papers..
I was then sent to Texas to do all the preparation…the unit was made of local civilians, left over soldiers…I used to train the civilians in the down time. A general asked the officer (I was a sergeant) what I was doing. He couldn't believe anyone would do anything on her own initiative. One 90-day wonder took issue with my reading of the record and battle stars awarded…I told him how…he didn't like my attitude…I think I said that's an asinine argument…all the typewriters had stopped. He threatened a court martial. I ran to the officer who was my best defense… explained the argument. He was on my side. He took care of the problem for me. The 90-day wonder apologized.. that he didnt know I was from Columbia University, which was a lie but it was funny…
A WAC officer with nothing to do came to be the interference later on…we became friends. I went to a third place in Texas to set up another separation center. I must have discharged in the 100s or even more. May 1945 to December 1945. Separation centers worked 7 days a week 8-5…every day. We were fed on time, eat on time. There were some other men there also. Men worked in Quartermaster's office and in the hospital with the medical discharge process, etc.
I was discharged in Des Moines, Iowa, December 1945.

Introduction
Veterans
Battles
Stamford Service Rolls
Homefront
Exhibit Photos
Opening Day