The Stamford Historical Society Presents
Pride and Patriotism: Stamford's Role in World War II
Online Edition
The Interviews
Edward Korn
Edward Korn was in the 80th Troop Carrier Squadron 436th group attached to 9th Air Force. Later his group split off overseas and was put into a new detachment formed by British and Americans called the 1st Allied Airborne Army. He was in charge of supply and worked in the administrative area overseeing the supply of men with munitions, food and other necessities.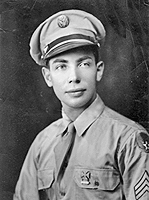 I had graduated high school prior to the war and had my first part-time job in jewelry company while I attended NYU at night. I was drafted January of 1943 and went into the Army, but after a week of training at Ft. Dix, New Jersey, I was sent to Air Corps. I was sent to Miami Beach for couple months of Basic Training. That included calisthenics, the use of rifles, marching, etc…nothing about planes. It lasted 2 months. At end of 2 months I was sent to school in Huntsville, Texas, Texas State Teachers College, for administration school. I spent 2 months studying Air Corps administrative procedure (January to May '43) then I was sent to Ft. Field, Ft. Wayne, Indiana. It was the HQ of Air Corps troop carrier command. I was assigned to a squadron, then sent to Alliance, Nebraska to join a troop carrier squad in formation. Troop carriers drop paratroopers and tow gliders full of airborne infantry. They are involved in the supply of people and equipment. I became a squad supply sergeant… I joined the squad in May of 1943. I was a corporal for a month, later, sergeant in summer and was made staff sergeant in November, just before overseas training. My job was to keep men equipped, food, clothing weapons etc. my title was quartermaster supply sergeant.
From Nebraska I moved down to North Carolina, Warrenburn-Maxton Airbase. Close to Ft. Bragg, where the paratroopers were. Aircrews began training to drop paratroopers with them. While there, I kept men fed and supplied and kept equipment available. We were there 2 or 3 months.
I no longer had to do rifle practice etc… In the Air Corps, once you're in a squad, discipline is more lax and there is less formality… I was in the 80th troop carrier squadron, 436th group, attached to 9th Air Force. Later our group split off overseas and was put into a new detachment formed by British and Americans, called the 1st Allied Airborne Army.
I went overseas in December of 1943. The Squad first went back to Bear Field in Indiana to get new planes, re-equipped and split into two parts. The bulk of the organization was the ground echelon, sent to NY and stayed there until the Queen Mary was available, and crossed on her. Two weeks prior, the air echelon to which I belonged flew down to Morrison Field in Florida. December 24 Roosevelt said no one was to go over on Christmas Day, Dec 26 I began the trip overseas with 13 planes…flew over… it was a lengthy trip, planes were not capable of flying the northern route Newfoundland-Scotland, they did not have sufficient fuel capacity, despite Bolero tanks (500 gallon tanks that sat in passenger area inside plane). We took the southern route Florida to Puerto Rico (Borinquen field) to British Guiana, to Belen, Brazil, to Recife, Brazil, to service planes, then December 31, 1943/44 to Ascension Island, then to Liberia, then Daka,r then Morocco. We spent time in Marrakesh waiting for a foggy morning to cross the Mediterranean and Atlantic, so German planes couldn't find us, and finally landed in England.
These were transport planes too big to ship, but the gliders shipped over on boats. The four-engine planes went the northern route. C-47s had to do southern route. DC-4 and Flying Fortresses did the northern route.
In England…went to a new base in Swindon, outside Nottingham Forest. We readied the base for the ground echelon. We went to Liverpool to pick up the gliders off the boats, and drove trailers with gliders in containers to the base and reassembled them. We used CG4A cargo gliders. We put 15 airborne infantrymen into it or 5 men and a jeep, or 5 men and a howitzer, then dropped them behind German lines on D-Day.
The gliders were not capable of returning. After a number of months, later during the invasion of Holland, we perfected the technique of recovering them. After the glider landed, a cable was strung between two poles, attached to a windlasses with big hooks on cables to other side of the plane and the plane swoop in hook glider, and bring the glider back. The problem was the group lost planes doing that in practice, because you had to slow the plane to stalling speed to hook the glide,r and they sometimes crashed.
From Jan '44 to June '44 we waited for the invasion…business as usual, lots of drill daily… gliders and paratroopers. We first became aware that the invasion was coming in – early May 44 when a number of battalions of paratroopers of the 101st Airborne moved onto the base. We knew something was coming…a couple of weeks earlier the aircrews were segregated and put into separate barracks and locked down and the base as a whole locked down. No one was allowed in or out of base except supply vehicles heavily guarded.
During the days before the invasion people were keyed up. June 5 we put up the planes with the paratroopers, but they came back because of bad weather…June 6 early afternoon paratroopers down to the flight line, assigned to planes, waited around 8 PM when a convoy came along with IKE who wished troops well , shook hands etc…in the middle of the night the planes took off, to drop troopers in Normandy. The planes were back by 3 AM. Paratroopers preceded the invasion. I was on flight line…
When Paris was taken we moved to a base in France…interim in England…after D-Day, we made drops of gliders in France…At one point we ran out and needed English gliders. A second invasion was planned for southern France. We invaded there…took part in Roman campaign…then the invasion of Holland, and crossing of the Rhine. The squad participated in seven major campaigns.
Holland was invaded in 1944… After we moved to Paris…the air echelon preceded the others. We took planes over set up new base for bulk of squad. The air echelon consisted of 13 planes, 5 aircrew, 3 administrators…less than 100 of 540 total men and officers.
Supply depots supplied materiels, I was like the Quartermaster in the army …The army air corps was supplied from the army. We supplied munitions, clothes, food, etc. I did a lot of traveling calling for supplies.
In France events sped up… Patton was advancing quickly and the problem was supply, we were flying loads of food, ammo, gas to Patton's tank corps on a daily basis. Planes took off in AM without a destination and while over the Channel they were told where to make drops. Patton's men took an airbase at so and so…land west side because east base not taken…They would unload supplies and on the return brought back wounded.
The Battle of the Bulge was frustrating, for the first few days fog and weather was so bad there was no visibility, couldn't take off planes, only 3-4 days into the battle did the weather clear sufficiently for us to supply men. We were based in France then. The Battle of the Bulge was a matter of days. Our base did not move as troops advanced, we were roughly 40 miles south Paris…
I had no experience with battle, but some with POWs… Christmas of 1944 we were still in in England and got an alert that German POWs escaped from camp. We had to go out and round them up in England.
Although we were combined with the Brits, the only change was to the shoulder patch we wore. We worked closely, but had done that beforehand, still we had different planes, but we flew joint missions and trained with them. We had lots of contact with locals in France, they were happy to see us…no contact with Germans.
War in Europe ended May of '45… When the war in Europe ended we where in Europe, we had to pack up and take everything with us…shortly after I was ordered to return to the US to take 30 days R&R then report to airbase in Missouri to get new planes. Our C-47s were brought home via the southern route, and exchanged for new planes. C-6 like a big cargo plane today. Then we were to go to Pacific. VJ-Day I was home, when the bombs dropped. We reported to duty at the end of 30 days, I had 85 points plus, so I was discharged. You needed 80 points to go home. I was discharged Ocober 2, re-enrolled in NYU on leave in August…began college, got back my old job…life began over.
Photos Courtesy Edward Korn
United States Army Air Forces / Ninth Air Force / First Allied Airborne Army
Overview of Air Force Combat Units of World War II
The Movement Toward Air Autonomy
CG4A Cargo Gliders

Introduction
Veterans
Battles
Stamford Service Rolls
Homefront
Exhibit Photos
Opening Day