The Stamford Historical Society Presents
Pride and Patriotism: Stamford's Role in World War II
Online Edition
The Battles
The Battle of of Kwajalein
Marshall Islands
The Battle took place on Kwajalein Atoll in the Marshall Islands between 31 January and 3 February 1944. It was part of Operation Flintlock. Kwajalein Atoll lies at the center of the Marshalls in the Ralik Chain, 2100 nautical miles southwest of Hawaii. It is comprised of 97 islets with a land area of 6.33 square kilometers.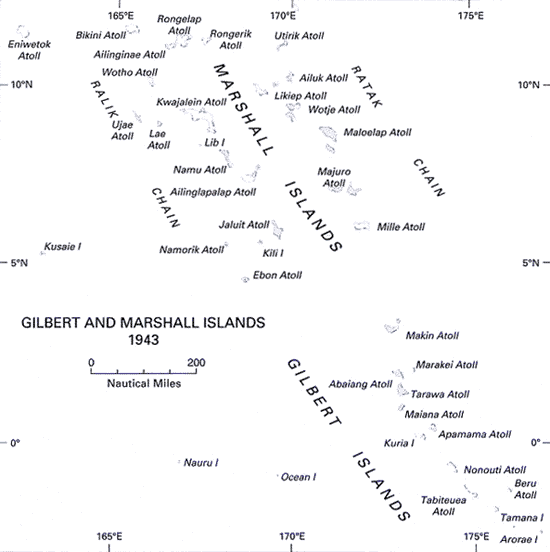 With the experience of Tarawa behind them U.S. forces were better prepared for the double assault on Kwajalein Atoll in the south and Roi-Namur in the north. The Japanese were caught having not fully prepared themselves for attack. They were also outnumbered. Many of the troops were not combat trained either. The commanders of the U.S. forces were Richmond K. Turner and Holland M. Smith. U.S. forces were comprised of 2 Divisions making about 42,000 troops total. The Japanese commander, Monzo Akiyama, had only about 8100 troops of the 6th Base Force with his headquarters on Kwajalein. The 4th Marine Division under Major General Harry Schmidt headed the Roi-Namur assault while the Army's 7th Infantry Division under Major General Charles H. Corlett made the assault on Kwajalein.
The Battle was significant in that it was the first penetration of Japan's outer ring of defenses. For the Japanese it called for a new strategy of defense as their beach-line defenses had failed.
The United States forces suffered 372 killed and 1592 wounded while the Japanese sustained losses of 7870 Japanese killed, 105 captured and 125 Korean laborers captured.
The Battle of Kwjalein
From the U.S. Army Center of Military History: Eastern Mandates
Breaking the Outer Ring: Marine Landings in the Marshall Islands
Pacific and Adjacent Theatres 1943 (map)

Introduction
Veterans
Battles
Stamford Service Rolls
Homefront
Exhibit Photos
Opening Day