The Stamford Historical Society Presents
Pride and Patriotism: Stamford's Role in World War II
Online Edition
The Battles
The Battle of Leyte
The Battle of Leyte's objective was the invasion and conquest of Leyte in the Philippines. Allied forces were under General Douglas MacArthur. Fought between 20 October 1944 and 31 December 1944, the battle was the first of the Philippine campaign from 1944 to 1945.
Whereas MacArthur saw Leyte as a prelude to the invasion of Luzon, Japanese commander General Tomoyuki Yamashita saw it as an opportunity for a decisive battle. The large number of forces participating on both sides made the battle the second bloodiest of the Pacific campaign after Okinawa. The American forces were made up of 200,000 troops while the Japanese had 55,000 at Leyte.
The Philippines were vital to Japan's existence, as a source of supplies such as rubber, and as they commanded sea routes to the East Indies through which oil was brought to Japan. For the United States, retaking the Philippines was important to national pride, as they had been a U.S. colonial possession. MacArthur had also defiantly predicted that he would return two years earlier, and so was determined that the battle would be a victory.
Following the U.S. capture of the Marianas (Saipan, Tinian and Guam) the Japanese knew the Philippines would be next. Consequently they quickly built up their forces. While U.S. subs were able to sink many Japanese troop transports because of the decryption of Japanese codes, by October 1944 the Japanese had more than 400,000 troops in the Philippines.
Under the protection of heavy Naval bombardment, General Walter Krueger's 6th Army made amphibious landings on the east coast of Leyte Island. The Japanese continued to view the battle as a showdown and immediately reinforced the 20,000 troops on Leyte, so that by 11 December there were 34,000 additional troops. However, the U.S. Navy took out many transports and the Japanese efforts were countered in a number of ancillary engagements such as the Battle of Ormoc Bay. Ultimately the Japanese were routed and the Allied forces proceeded with the invasion of Luzon on 15 December 1944.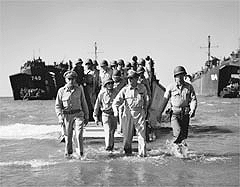 General MacArthur wades ashore in the 24th Infantry Division
(National Archives)
The Allied forces lost 3500 killed and 12,200 wounded compared with 49,000 killed on the Japanese side.

Introduction
Veterans
Battles
Stamford Service Rolls
Homefront
Exhibit Photos
Opening Day