The Stamford Historical Society Presents
Pride and Patriotism: Stamford's Role in World War II
Online Edition
The Battles
The Battle of Peleliu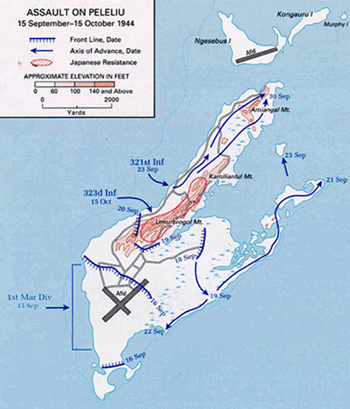 The Battle of Peleliu was fought to capture an airstrip on the island. It was fought from 15 September to 25 November 1944. The Island is part of the Palau group. It measures about 5 square miles. This assault was part of Operation Stalemate II. The United States forces were commanded by William H. Rupertus and consisted of 2 Divisions: the 1st Marine Division and the 81st Infantry Division. Colonel Kunio Nakagawa commanded the approximately 11,000 men making up the Japanese force, the 2nd Infantry Regiment of the 14th Division. It was believed Peleliu had to be neutralized to protect General Mac Arthur's right flank during the proposed retaking of the Philippines.
Land-based targets were initially bombarded for several days prior to the landing of troops. The landing was preceded by a three day long Naval bombardment, although only two days worth of ammunition was utilized. On 15 September the assault began with the 1st Marines to the left, 5th Marines in the middle and 7th Marines on the right (southern) beaches. It was believed that the operation would be a short one, but it was not, because the Japanese had dug in caves, bunkers and pillboxes. The 1st Marines were also faced with a 30 foot high coral ridge. They suffered the greatest number of casualties throughout the campaign. Though the airfield was secured by the 24th of September, the Japanese continued to fight for every inch of the island. It was not until November that the island was finally secure.
The Americans suffered 2336 killed and 8450 wounded. The Japanese suffered 10,695 killed and 202 captured, only 19 of which were Japanese, the others were Korean and Okinawan laborers. The assault on Peleliu resulted in the highest casualty rate for any amphibious assault in the entire Pacific campaign.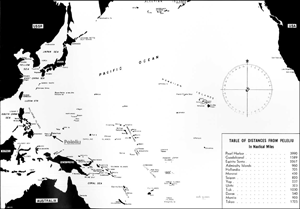 large image of map of the Pacific, depicting Peleliu by arrow

Introduction
Veterans
Battles
Stamford Service Rolls
Homefront
Exhibit Photos
Opening Day