The Stamford Historical Society Presents
Pride and Patriotism: Stamford's Role in World War II
Online Edition
Biography
Joseph Principe
Lt. Joseph V. Principe was a B-4 bomber pilot in the Army Air Corps. He flew 30 missions over France and Germany.
Joseph Principe's daughter, Andrea Principe, donated his World War II Army cot from his Army Air Corps training days, as well as a World War II U.S. Army Medical Corps blanket dating to 1944. The donor bought the blanket in 1973 at a tag sale while she was assigned as a Women's Army Corps training officer at Fort McLean, Alabama.
Below: Lieutenant Principe's Section Group.
He is standing above the N.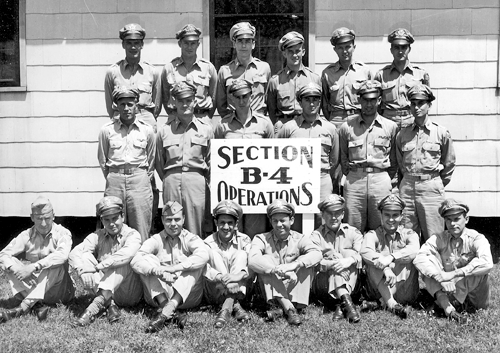 Photos of her father Courtesy Andrea Principe
United States Army Air Forces / Eighth Air Force
Overview of Air Force Combat Units of World War II
The Movement Toward Air Autonomy

Introduction
Veterans
Battles
Stamford Service Rolls
Homefront
Exhibit Photos
Opening Day