The Stamford Historical Society Presents
Pride and Patriotism: Stamford's Role in World War II
Online Edition
The Interviews
Ben Reed
Ben Reed joined the Marine Corps in April of 1942. He went through a V-12 program and after training was sent to Pearl Harbor as a replacement officer. The war ended before he shipped out and he was transferred to a Military Police Unit where he served on Guam supervising Japanese POWs and also patrolled the highways.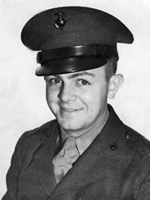 I went to an Albany high school run by the Christian Brothers, it was like a military day school and it was run by a former Marine Major this, influenced me…
When the war started in Dec '41 I was sophomore in college…after a few months I decided to join the Marine Corps reserve program…candidates class. College students who wanted to be officer in Marine Corps signed up and were allowed to defer their entry since the Marines in return consider you more valuable to them with degree…most Marine officers were college grads. I signed up April '42.
They promised not to call me to active duty till absolutely needed. I had to continue in college…I finished my sophomore year then junior year, then in June I reported to active duty to at Dartmouth College…The Navy Department in that period decided they could do better job of getting college people by starting the V-12 program…for people to be deck officers in the Navy or ground officers in the Marine Corps (V-5 for flight officers)…Dartmouth was taken over like others by the Navy to run the program.
Regular personnel, professors, stayed and instructors were largely those who taught courses before to undergrads…they were supplemented by military officers and enlisted men who taught military related courses. July 1, '43 I started my active duty..
I was allowed to take any course to complete my degree but had to have college physics, mechanical drawing and college algebra, Navy requirements…why? The problem that developed was there were 1200 Sailors, 800 Marines…and their estimates of how many had not had these courses were way off….too many…I didn't have to take college physics or mechanical drawing…but I did do college algebra…it was hard…. I explained to the professor… I had never had it…The Prof was an English teacher!
They decided if Marine didn't need mechanical drawing…he had better to go into geology for map reading and photography, a lab course, with lots of fieldwork…it was more useful…aerial photography… better than at OCS.
I finished there in Spring 44 and was ordered to Paris Island to go through boot camp. We went through regular procedure…it was scary…pressure. We were brought in at night, and they screamed and hollered at us, intimidation… for first month, it was very restricted, no liberty, no PX to buy anything, couldn't get candy…mailed goodies taken away… they claimed that when we went to the rifle range…sugar would effect our eyesight and marksmanship. Only in the last week finally could we go to the PX and get candy etc..
We were in small Quonset huts at this time 6-8 people. And sleeping on cots…in the middle of night at 2 AM everyone would drive us outside…make you stand outside until they find who did something…it was harassment. Hazing…
They cut off all our hair, shaved us really…the idea was to put you down, lowest of low, then at graduation as a Marine now you were no longer so low as before…
Next step was Camp LeJeune in North Carolina Pre OCS program,…the idea was to prepare for lots of field work.. I went to Officers Candidate School next…sometime in July of '44 I got orders to Quantico OCS which lasted 2 1/2 months. The day before we finished they promoted everyone to Platoon Sergeant (Staff Sgt.) that was your permanent rank,, next day 2nd Lieutenant (temporary rank) if they wanted to break you down you could go to the enlisted rank.
I graduated in Sept 44…then went to another school in Quantico…a finishing school, like a grad school, for another 2 1/2 months. That went beyond what you learned in OCS…and began a lot of fieldwork…
In the Marine Corps every officer is an infantry officer…you have a specialty but everyone is an infantry officer…
From Quantico… I got an order to go to Camp LeJeune again…this time to join the infantry training regiment as an instructor teaching people out of boot camp in machine gun and mortar use…at same time I was sent to a school…Assault Demolition school run by engineers. We spend to 2 wks blowing things up… the idea of the training was to train for the Pacific where the Japanese had bunkers…and the only way to get at them was to blow them up. Our training was to go on top of bunker and blow charges to blow a hole so a napalm flamethrower could be used to roast the people inside.
Feb '45 I was ordered to go to Camp Pendleton…right about time of Iwo Jima…in California. A whole troop train went… they were replacements for people killed at Iwo Jima…Okinawa was coming up on Apr. 1, '45…there was a possibility of going to Okinawa.
I joined a replacement training regiment and spent 2 months there undergoing training then was ordered to go to Alameda Naval Air Station in San Francisco to transport to Pearl Harbor. We were flown out in four engine flying boats…told not to unpack…we were to keep going..1 month later after playing basketball, going to Waikiki sight seeing, we got orders to go to the 4th Marine Division HQ on Maui. They had just returned form Iwo Jima, most officers (Lieutenants) had been killed there. We were replacements for them…this was in 1945 May.
We underwent training there and resupplying and fieldwork but.didn't know what to do. Lots of equipment was coming in… various artillery pieces, mortars etc…the war ended in Aug. 45
Shortly after we found out all Marine Corps divisions were slated to make the invasion in Japan….with army divisions… but didn't happen… Those of us without enough points continued to serve, we weren't in enough operations to get points…I got reassigned, others got to go home.
My group formed an MP battalion were given a few weeks training then transferred to Pearl Harbor where we loaded aboard a carrier the Bonhomme Richard and were transported to Guam. We were assigned to Japanese POW camp. We had various duties…. The purpose of our unit was not to run the camp but take prisoners out every morning to work detail to an area called Island Command…an escarpment. They were cleaning up the battlefield. What was really going on was while the Seabees worked with equipment the POWs pick and shovel, to build a golf course for Admirals and Generals We just had to guard Japanese prisoners…
The Japanese POWs were from the Island of Rota, which was bypassed, They were left starving on Island for year or so. They ate rats, mice, snakes, so they were very docile prisoners..
We had one Japanese sergeant who was a trustee to watch over them too. Any problems with the POWs we would let him know and he would discipline them (beat them).
Our other was duty road patrol. The Seabees built a superhighway on Guam. The Marine Provost Marshal had problems with Air Force Colonels and Lt. Colonels who were giving MP enlisted men a hard time. He replaced them with officer rank MPs… For every hour on duty we had to have one arrest…
Last two months I was put in charge of Tumon Bay Recreational Beach with four Marine enlisted and 8-10 native of Guam…Marines patrolled the beach. It was open to all military on the island regardless of branch, it was divided up into sections, officers, enlisted, flag officers and natives… Natives' job was to clean the beach.
During a typhoon in Guam I took refuge in Japanese air raid shelter. There was lots of wind…buildings had no windows so water poured in..
May '46 I went home. Then went to Brooklyn Navy Yard, physical exam then broke back to Platoon Sergeant…if wanted my rank in reserves had to sign a paper. I did and the war was over…

Introduction
Veterans
Battles
Stamford Service Rolls
Homefront
Exhibit Photos
Opening Day