The Stamford Historical Society Presents
Pride and Patriotism: Stamford's Role in World War II
Online Edition
Military Vehicles From the 2006 Stars & Stripes Antique Car Event
On September 16, 2006, the Historical Society held an Antique Car Event. Two of the vehicles exhibited were from WWII, a refurbished 3/4 ton Weapons Carrier and a Mortar Half Track. The exhibitor was Andy Knapp of Wilton, Connecticut.
Refurbished WWII Weapons Carrier
The weapons carrier had a machine gun mount installed above the cab, in the large metal ring seen on the top of the truck.
These ring mounts could also be used to mount a searchlight.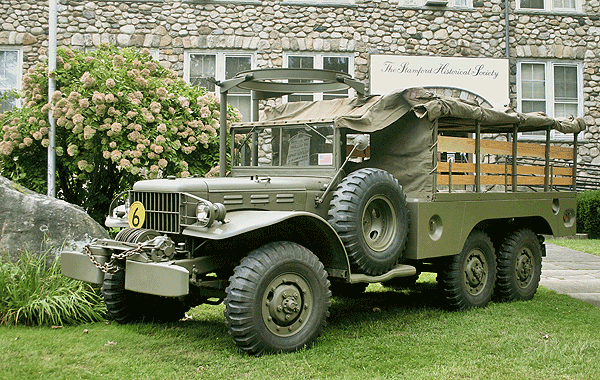 WWII Mortar Half-Track
The half-track is outfitted with a 81mm mortar facing back on the cargo bed with a 30 cal machine gun installed on the right front side above the cab.
Photos © Laurel Cooley, John Oyster, Stamford Historical Society
back to top

Introduction
Veterans
Battles
Stamford Service Rolls
Homefront
Exhibit Photos
Opening Day