The Stamford Historical Society Presents
Pride and Patriotism: Stamford's Role in World War II
Online Edition
The Interviews
Murray Weingrad
Murray Weingrad was drafted in 1942. After training in the States he became a member of the 1262nd Combat Engineers' Battalion. The Battalion preceded the infantry and was responsible for laying bridges, clearing mines and setting up lines for radios and communication. His unit crossed the famous Bridge at Remagen and took part in the liberation of Polish slave workers in Germany.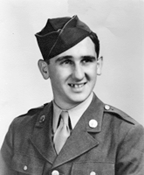 I grew up in Ossining NY, and lived there, went to school there, graduated high school there and went to college at UCONN. I moved to Stamford after the war. I went to UCONN, and met wife who lived in Stamford c.1939…basically only went home during the summer. I was at UCONN till 1942 when I got drafted in my junior year into the Army. I got permission to go home to Ossining and left from there, September 1942.
Initially I was posted to Ft. Jackson, South Carolina...UCONN had army ROTC, all had that. At Ft Jackson, South Carolina they asked if anyone had training…they had my record and sent me to Atlanta to provide guards to guard freight trains that were bringing high test gasoline up to Brooklyn to be transported.
One year of ROTC was enough qualification, though I really had no great training. It gave me the opportunity to get home, got a ride up to Storrs to visit my fiancée, then went back to Atlanta, then back to Brooklyn, etc.
I applied for and was accepted to Officers Training School, Ft Monmouth, New Jersey. In the last week of training... just prior to invasion of Africa there was a need for ground troops, so the Army terminated the programs at Ft. Monmouth, the main signal corps training grounds…
I applied for and entered another program designed to provide for the occupation of Germany and stayed at Ft. Monmouth – studied German history…then they terminated that program in anticipation of European invasion and I was sent to Camp Shelby, Mississippi in Hattiesburg, Mississippi… I was sent to the infantry. Most guys had college backgrounds and had been in training programs…A few weeks later I got transferred to a Combat Engineer Battalion at Camp Shelby and spent most of time there training signal operators in the battalion…I had been at the signal corps school Ft. Monmouth earlier. I was training radio operators and lineman. My unit was the 1262nd Combat Engineers' Battalion.
I was at Camp Shelby till October 1944, the I was sent to New York for embarkation on October 29. I left for England on a Liberty boat, 15 days on board…subs were in and around the area off Carolina coast, Cape Cod, etc.
We went to Plymouth, England on November 10. I remained, and trained there. In January 1945 we left for Southampton, for France, and landed at DuClare January 11.
In France it was bitterly cold…We set up in pyramidal tents, five men per tent, with a potbelly stove in middle for heat….once you got into cot and sleeping bag you didn't get out till morning. One guy had job of keeping stove going.
Camps were all named after cigarette companies…they were gathering points from which we took off.
We left camp headed for Germany in February '45, and went to the Siegfried Line, our first experience at the front. We went through the Line and spent one night with several guys on a cement platform which turned out to be a church alter, the church had been destroyed. We also found we were behind enemy lines at the time…we continued on the way with the 1st Army…it was well run by Omar Bradley…hot meals all the time. Patton's 3rd Army never got a hot meal. Never got out of barracks bag with Patton, never stayed in one place more than a day or night. We continued through the Siegfried Line to Belgium.
Then we went into Germany – first dead German was a vision, I got to place in the forest and this guy was sitting in the tree, frozen dead, my first sight of a German. We continued north through Belgium, crossed the Rhine in March and were transferred to Patton's 3rd army…we entered at the end of Battle of the Bulge, it was winding up at that point. Good luck.
We next went to the Ruhr valley pocket, an area of German resistance…The Combat Engineers preceded infantry. We drove north across the Rhine preceding the New York 69th Infantry, which then went directly to Berlin
The Combat Engineers were attached to Corps HQ first to Bradley's 1st Army, then Patton's 3rd Army Combat Engineers. After the Bulge we went to the Ruhr pocket and laid a treadway bridge for the infantry to go over. We laid the bridge with rockets going overhead, infantry firing rockets into the Ruhr. The enemy were mostly German homeland soldiers retreating. We continued south on the Rhine and on April 13th reached Nederpleitz…I remember bed bugs there. We then headed south through Frankfurt.
We went down to Remagen Bridge, we got over and just after the bridge crossing…we heard of a counterattack and parachute drop since signal radio operators. We waited but the drop didn't occur. By then the bridge was so badly damaged, no one could cross it, and we had to spend time until pontoon bridges were put across the line…Driving east through Germany, we took right turn to Nuremburg, came to a schoolhouse in April, when we got there it exploded with people…Polish people, slave workers brought over by the Germans… what a wild bunch… Eibach… schoolhouse 4 km from Nuremburg..
In Ruhr captured lots of troops and more transferred to Erlangen POW camps.
In May we were at Landshut…May 1 to 2 the entire German front collapsed. We were then at a farmhouse…continuing south toward Nuremburg. We bivouacked at Erlangen. Our battalion built a POW camp and we also had time off to play baseball. German prisoners built part of the encampment, and there we interrogated them…At City College I had studied some German and I interviewed German prisoners and tried to help them.
We were at Erlangen when the war ended, with instructions to go to the Pacific. We left Erlangen May/June '45, got to Rochefort in France outside Paris. We had stopped there when the bomb dropped on Japan. The GIs were not unhappy about the bomb drop.
In Paris I found a relative who had been freed from a concentration camp. She had a number tattooed on her arm. She had been rescued out of the camp with aid of Swedish Red Cross.
Army set up educational opportunities…
We were all stuck in Europe, so the Army set up educational opportunities. I went to University of Glasgow..and spend a semester there in Scotland...While I was there my number came up and I got home March 1946.
I received two stars for combat participation.
During the Bulge, and during the Ruhr combat, we primarily laid bridges for infantry…we learned how to probe for mines...we had to clear minefields for infantry to get through… in addition to radio operations we still had to string telephone wire…I remember I went across a field and saw the remains of a shoebox mine, fortunately empty… This was before metal mine sweepers, so we had to go in with bayonets.
We also transported Bailey bridges as a means of crossing rivers quickly driving 6-ton trucks. There were few casualties in the group. We had a Jeep, so there was no marching, but we had to carry equipment… radio, etc.
Overall there was not much opposition. We were unable to change clothes much…also lot of mud, in Belgium...the Army had showers set-ups. Huge tents…you go in one end, take off clothes, go through and get a new set of clothes at the other end…but this happened maybe once, in general there were no showers.
Sometimes we slept under stars. If there was an empty house in there, there were lots of empty buildings…We were trained in bivouacking with little tents etc. You'd need to dig trench around the tent keep from flooding…but in Europe we didn't use tents much.
Map of Ruhrpocket (pdf file)

Introduction
Veterans
Battles
Stamford Service Rolls
Homefront
Exhibit Photos
Opening Day