The Stamford Historical Society Presents
Pride and Patriotism: Stamford's Role in World War II
Online Edition
The Interviews
Frank Zurzola
Frank Zurzola reached the rank of Staff Sergeant with the 7th Army Air Force but was not a flyer. He spent his career climbing the ranks in the Army Air Corps kitchens, beginning with KP duty and rising to Mess Sergeant. He cooked and managed mess halls at a number of bases in the Southwest before being shipped out to Hawaii where he ended the war.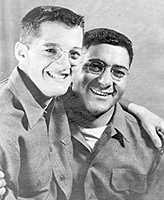 Staff Sergeant, 7th Air Force.
At beginning of the war...December 7 I was in Star confectionary...having hot chocolate, on Main Street. A fellow runs in says we are at war – Japan just bombed Pearl Harbor. KJ restaurant gets demolished...they smashed windows grills etc...It was near where Rich Forum..it was run by Japanese immigrants. When I worked in the fish market I delivered to them.
I was out of high school, Frank Fiore says, Zarz, lets join up. I had glasses, couldn't see two feet in front of me...we went to New Haven...he went to National Guard, I went back to Scalzi Paint...I was told eventually I would be needed. They were looking for 1B limited service non-combatant...1942 I went into the service, September 2, 1942.
We thought the war would end in two months...3 1/2 years later I finally got back...I got my basic in Miami Beach...thought I was in infantry, for one week we walked 12 hours a day...we walked 6 miles up the beach, we pitched tents with all our stuff, waited 10 minutes...then packed up and marched back... in the sand... Then there was bayonet practice... charge and stab bag, pull his guts out...!!
I was two months in Florida...then orders came to ship out...30 boxcars were out there, two engines...1st engine pulled 15 cars, we were on the second batch off from Jacksonville Florida, it was three or four days before Christmas. The lights dim, shades were down on the train. We sang embrace me, embraceable you...I' ll be home for Christmas..there were tears.. we didnt know our destination..some were just kids...
We ended up in Kingman, Arizona. We were put on a truck, the base was 10 miles out of the city, Kingman Army Airforce Base. It was a flexible gunnery school. The first group that got there were former cadets, then Mexicans, then limited service. The base was not even finished...the latrines weren't working...cold water...Don't ever volunteer! The Sarge said OK, I need four truck drivers, I volunteered...the sarge took us to the latrines and we had to shovel the dirt, our trucks were the wheel barrows...
We got orders to go to school, I wanted to be an MP, but no, I went to clerical school. Sergeants were tough...they wanted 40 words a minute, no errors...I did graduate and was assigned to a mess hall...I ended up dealing with menus, and had an office in the mess hall. I didn't like desk work. The Lieutenant said there was a KP job...a thankless job, on duty 3 to 4 AM...I took it. Then I wanted to be a cook's helper. The Lieutenant said sure, you can open cans...etc...you are not going to cook. You needed to go to school. I ended up going to cook and baker school at Kingman, then became cook's helper, then cook, then 1st cook, then mess sergeant and cook. I cooked for Bob Hope when he came through. With Bob Hope was a terrific woman sang embraceable you, then Jack Carson came through... with Chili Williams (woman) I almost lost a stripe, because the shift before me put her on serving the meat. She gave more than one slice...you can't do that, one or two tops...you can't run out of food.
I learned every thing in the mess hall. Mess sergeants are in charge of the whole hall, supplying serving etc. I got my First stripe as Pfc. for six month, then Corporal, then Sergeant, then Staff Sergeant.
From Kingman I went to Salt Lake City to open up a mess hall, then in Arizona I opened an R & R place cooking...I flew to Yucca, Arizona in a B-17. In the Bomber you could see the ground go by. We fed guys on R&R...had to put in 30-60 days... I was scared of flying, I wanted to go out by truck...so I went out by truck through the desert...then back to Kingman. Then I went to Salt Lake City, it was cold...I cooked down there. A bunch of kids got killed in a train wreck in Kingman...I smoked 3 to 5 packs of cigarettes a day and drank Southern Comfort. A young kid tells me to get hold of myself...so I did. Then I went to Seattle, Washington, then to San Francisco, then Oahu...all you saw was Navy uniforms...got shipped out to Kauai...barking sands.. I was a mess sergeant there. I made banana cream pie for the locals...they worked at the PX. One Chinese, others Hawaiians. I was a mess sergeant and cook, O6OMOS code means you are a cook. We were not liked (airforce in Kaui) 'cause infantry had raped the town. We were told not to be out alone at night outside of base.
The sands would bark when you walked on them.
Finished in Kaui, then shipped back and went home.
The worst food in the army...beef liver...or mutton...I would trade canned pork for peppers and served lots of spaghetti and meat sauce, pancakes...etc.
---
Frank Zurzola today: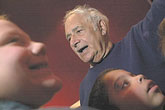 A Walk along Pacific Street
In the Society's Immigrants of Stamford education program, Frank Zurzola shares his recollections of tenement life on Pacific Street with elementary school children. He also tells his stories in telephone conference calls with the homebound through the Friendly Visitors program.
Photo: Andrew Sullivan/The Stamford Advocate
Frank Zurzola and the class ring (The Advocate)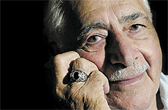 Photo Kathleen O'Rourke/The Stamford Advocate
---

Introduction
Veterans
Battles
Stamford Service Rolls
Homefront
Exhibit Photos
Opening Day