The Stamford Historical Society Presents
Law & Order: The History of the Stamford Police Department 1830-1956
a 2004 Exhibit and more
SOUVENIR HISTORY
OF THE STAMFORD POLICE DEPARTMENT
Issued on the Occasion of the
FIRST GRAND BALL
of the Stamford, Conn., Police Force
Monday, April Nine, Nineteen Seventeen
For the Benefit of the Pension Fund
Marcus Research Library
352.2
Bureau of Detectives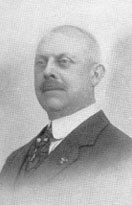 Assignment of a patrolman to detective work was one of the first steps taken by Chief of Police Brennan to improve the police service. Shortly after he had been appointed, Chief Brennan assigned Patrolman James J. Heffernan to this work. Mr. Heffernan has been doing detective work ever since.
Mr. Heffernan's appointment as patrolman was confirmed by the Common Council, November 11, 1895. He had been doing police duty, however, since October 16 of that year. He was assigned to work at police headquarters. In June, 1909, a charter amendment creating the office of detective-sergeant became effective and, on June 28. Patrolman Heffernan was appointed detective-sergeant.
Mr. Heffernan from the outset of his career as policeman displayed aptitude for investigations that require care, patience and intelligence, as well as personal bravery. One of his early achievements was the capture, on May 17, 1898, of Josiah J. White, an elderly man who escaped from Raymond Street jail, Brooklyn, where he had been confined for refusing to turn over to the public administrator securities amounting to $60,000 and belonging to the estate of his deceased wife. He had been removed as administrator. Mr. Heffernan found in his possession papers that helped untangle a very snarled matter. For this arrest, Mr. Heffernan received from Sheriff Creamer of King's County, a set of handcuffs which he prizes very highly. Mr. Heffernan was born in Stamford, August 1, 1865.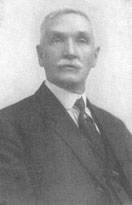 Detective Sergeant Thomas Foley was appointed patrolman, June 22, 1896. He was assigned to detective work in October, 1907, and was appointed detective-sergeant, July 14, 1913. Sergeant Foley had many stirring encounters with law-breakers. He was publicly commended from the bench, by Judge N. C. Downs, November 6, 1899, for bravery in the discharge of his duty. Mr. Foley was born in Greenwich, November 27, 1861.
Sergeant Foley is also the city dog warden, having been appointed to the position in 1907. It is his duty as such to take and dispose of unlicensed and stray dogs. The city is allowed a fee for every dog disposed of and this goes into the police pension fund. Detective-Sergeant Foley has collected $4,610 for the fund, since he became dog warden.
The equipment of the detective bureau includes a rogues' gallery with upwards of 500 pictures in it, devices for taking finger-prints and for taking the measurements and weight of criminals. Sergeant Foley has charge of the finger-print work and he has become expert in it. Every person bound over or arrested for serious crime is photographed and finger-prints of such persons are taken.