The Stamford Historical Society Presents
Law & Order: The History of the Stamford Police Department 1830-1956
a 2004 Exhibit and more
SOUVENIR HISTORY
OF THE STAMFORD POLICE DEPARTMENT
Issued on the Occasion of the
FIRST GRAND BALL
of the Stamford, Conn., Police Force
Monday, April Nine, Nineteen Seventeen
For the Benefit of the Pension Fund
Marcus Research Library
352.2
Chief of Police Wm. H. Brennan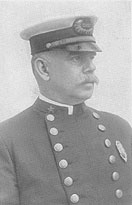 Chief of Police William H. Brennan was born in Stamford , June 14, 1865 . Chief Brennan represented the Second Ward in the first Common Council of the city of Stamford . He was appointed patrolman February 14, 1898 , was made acting-chief of police August 11, 1903 , and was appointed chief of police by Mayor Homer S. Cummings, August 14, 1905 .
Chief Brennan was elected vice-president of the State Police Association in July, 1905, and he was re-elected annually until 1912, when he was chosen president of the association, succeeding Henry D. Cowles of New Haven . He is also a member of the executive committee of the International Police Chiefs Association and he enjoys friendly relations with the heads of all the important police departments of the country.
Although a strict disciplinarian, Chief Brennan is a just and a kindly man. His executive ability is evident in the progress the department has made since he became its executive head.