The Stamford Historical Society Presents
Law & Order: The History of the Stamford Police Department 1830-1956
a 2004 Exhibit and more
SOUVENIR HISTORY
OF THE STAMFORD POLICE DEPARTMENT
Issued on the Occasion of the
FIRST GRAND BALL
of the Stamford, Conn., Police Force
Monday, April Nine, Nineteen Seventeen
For the Benefit of the Pension Fund
Marcus Research Library
352.2
Police Sergeants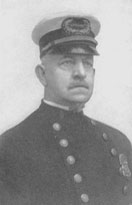 Sergeant William F. Nevins was appointed patrolman by Warden Charles H. Leeds, July 10, 1893, when Stamford had the borough form of government. On May 14, 1894, he was reappointed by Mayor Charles H. Leeds. He was appointed sergeant of police, August 14, 1905, by Mayor Homer S. Cummings.
Sergeant Nevins is the veteran of the police force and about his career as policeman could be written pages of stirring exploits. A more daring policeman never wore uniform. Many of the important arrests in the police department were credited to Mr. Nevins. He wears today as a memento of one a handsome watch presented him by the Stamford National Bank in recognition of his service in the arrest of Louis Vaneskefski, March 3, 1902, after the latter had short-changed the cashier of the bank out of $210.
Sergeant Nevins was born in Stamford, June 9,1859.
Sergeant Walter P. Williams is also a native of Stamford. He was born January 23, 1869. He was appointed patrolman, April 24, 1899, and was assigned to duty at headquarters. He has been a headquarters man ever since. having been appointed sergeant of police, August 14, 1905, by Mayor Cummings. In the old days the headquarters or houseman had considerable police duty to perform, apart from keeping the records. Before he was relieved of this sort of work, Sergeant Williams made a number of important arrests, notably that of Herbert O. Taylor, a man who had stolen diamonds of considerable value in Englewood, N. J.
Sergeant Michael Greaney became a patrolman September 1, 1905, having been appointed by Mayor Cummings. He was advanced to the post of sergeant, December 22, 1913. Sergeant Greaney was Mayor Austin's appointee and the mayor had the satisfaction of casting the vote that gave him the place, the councilmanic vote on confirmation having been tie. Mayor Austin's confidence in Sergeant Greaney was well placed. He has proved himself worthy in every way of the appointment and is a credit to the department. Sergeant Greaney was born in Ireland, February 3, 1867.