The Stamford Historical Society Presents
Pride and Patriotism: Stamford's Role in World War II
Online Edition
The Battles
The Battle of Eniwetok
The Battle of Eniwetok was fought between 17 February and 23 February 1944 on Eniwetok Atoll in the Marshall Islands, 330 miles northwest of Kwajalein. The objective was to take the island so as to have an airfield and harbor to support attacks against the Mariana Islands to the northeast. The island had initially been lightly defended, given the belief of the Japanese command that the US forces would attack the southwestern Marshall Islands first. Nevertheless, the Japanese 1st Amphibious Brigade had reinforced the island in January 1944. The commander of this force, Major General Yoshimi Nishida, had started to build defenses, but the size of the coral islands made it impossible to construct elaborate works and the frequent air attacks made it even more difficult.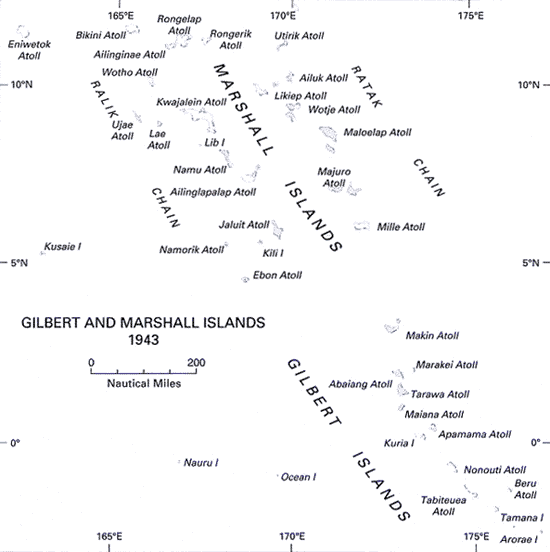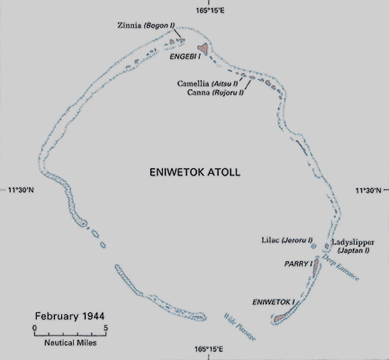 Vice Admiral Raymond Spruance preceded the invasion of Eniwetok by Operation Hailstone, a carrier strike against the Japanese base at Truk Lagoon in the Caroline Islands. This operation resulted in the destruction of 15 warships and more the 250 planes, rendering Eniwetok more vulnerable by cutting off its supply line and its support. Carrier air strikes had also increased by January 1944. The overall US Commanders at Eniwetok were Harry Hill and Brigadier General Thomas E. Watson, who was the Marine in overall command of some 10,000 assault troops. The U.S. forces were composed of two regiments. They faced 2741 Japanese.
Naval bombardment of Eniwetok began 17 February, while the 22nd Marine Regiment, commanded by Col. John T. Walker, landed on Engebi Island, on the north side of the atoll, a day later. Engebi was secured within six hours with only light resistance offered. More than 1200 Japanese, Koreans and Okinawans were on Engebi, only 19 surrendered. Captured information suggested a similarly light defense on Eniwetok, so the bombardment on the island was short prior to the landing of the 1st and 3rd Batallions of the 106th Infantry Regiment on February 19th. Unfortunately the Japanese were well entrenched on the island and the U.S. advance was halted under heavy fire. The island was not secured until 21 February. More than 800 Japanese defenders died on Eniwetok alone, compared with 37 U.S. troops. On Parry Island no assumptions of light Japanese defense were made, but instead the battleships Tennessee and Pennsylvania and other ships shelled the island with more than 900 tons of explosives. Battleships moved to within 1500 yards of the shore to fire on Japanese positions. When the 22nd Marines landed on 22 February, resistance was light and by 23 February the whole atoll had fallen to the American forces.
By the end of the battle the Americans had suffered 262 killed, 77 missing and 757 wounded. The Japanese lost 2677 killed, 16 Japanese captured and 48 laborers captured.

Introduction
Veterans
Battles
Stamford Service Rolls
Homefront
Exhibit Photos
Opening Day