The Stamford Historical Society Presents
Pride and Patriotism: Stamford's Role in World War II
Online Edition
The Interviews
Elwood Lichack
Elwood Lichak had a career in the Navy, joining in 1936 as a seaman and retiring in 1956 at a Lt. Commander. During his long service in WWII he won the Navy Unit Commendation Medal for the Marshall Island Operation (January 29–February 28, 1944); the Bismarck Archipelago Operation (March 19–April 19, 1944) and the Western New Guinea Operations (April 27–May 2, 1944). He served as 1st Lieutenant on an LST at the Okinawa landing as well.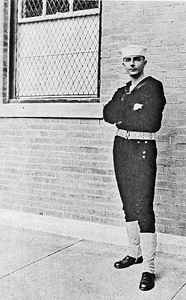 I was born September 8, 1916 in Greenwich, CT. I enlisted in the US Navy on February 4, 1936 as an Apprentice Seaman and was sent to the training station at Newport, Rhode Island and spent several months there drilling, earning only $20.80 a month. Following training I was sent to New York harbor to the USS Henderson which traveled through the Panama Canal to Los Angeles harbor where I was assigned to the USS Pennsylvania BB38, Flagship U.S. Pacific Fleet, as a Seaman 2nd Class on June 20, 1936. I was selected for the gunnery program with the responsibility for maintaining a 5" 51-caliber surface gun. In 1938, the Pennsylvania was shifted to Pearl Harbor, Oahu, Hawaii. By February 16, 1941 I had advanced through all the enlisted gunnery grades to Gunner's Mate 1st Class.
On December 7, 1941, the USS Pennsylvania was in dry dock with the destroyers USS Downes and USS Cassin when the Japanese surprise attack occurred. I was just ready to be relieved from a watch duty at the armory when the call came at 7:55 AM to report to General Quarter. I reported to the eight 5" 25-caliber anti-aircraft guns. The guns were uncovered that morning making it easier to ready them to fire. There were over 300 Japanese planes were on the attack that day and because of their angle of attack, US gunners were only able to down about twelve of them.
On August 15, 1942 I was appointed Warrant Gunner. Following my return on the Pennsylvania to San Francisco I was transferred, on November 24th, 1942, to the USS Mount Vernon. The ship was assigned to take 8,000 Marines to Auckland, New Zealand. Upon my return to San Francisco, I went to gunnery school at Pacific Beach, Washington, March 12, 1943, to train on 40mm guns. I later became an instructor on both 20 and 40m guns. On May 13th 1943 I was assigned to the USS Manila Bay CVE61, an aircraft carrier. I was in charge of the 5' 38-caliber guns as well as 8 40mm guns and 20 20mm guns. From 1943 to 1944 my duty took me to the Marshall Islands, the Gilbert Island and New Guinea. The ship was successfully able to avoid Japanese planes during the operations.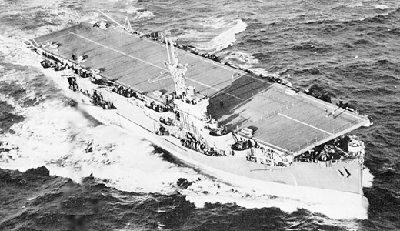 For my service I won the Navy Unit Commendation Medal for the Marshall Islands Operation (January 29 to February, 28, '44); the Bismarck Archipelago Operation (March 19 to April 19, '44) and the Western New Guinea Operations (April. 27 to May 2, '44). I was appointed Ensign US Navy, February 29, 1944. Upon my return I was sent to Bradford, Virginia for amphibious training in preparation for Okinawa. Specifically, we were trained in Landing Ship preparation.
November 14th 1944 I was transferred to USS Landing Ship Tank (LST) 834 as 1st Lieutenant. The ship was brand new and had been built in Pittsburg, Pennsylvania. On April 1, 1945 I landed the 1st Division Marine at Okinawa. The ship encountered no opposition during the landing and there was little sign of the enemy. My worst days of service were the day before war was declared (Pearl Harbor) and the day after the war ended. That day a Japanese kamikaze plane dove into a ship in the harbor near ours causing great loss of life. During the seven months at Okinawa I remember that the worst danger came from typhoons. On July 1st 1945 I was appointed Lieutenant (JG) and on January 5, 1946 was ordered to USS LST 1065 at Saipan, Marshall Islands, as Commanding Officer.
I remained in the Navy until March 1, 1956 when he retired as a Lt. Commander.


Elwood Lichack, GMYC, Gunner's Mate First Class, 1941
Left: Official Navy photograph, 11 May 1951
Right: "Elwood Lichack 2071667, 202271, 048304382, Retired Lcdr USN, 1, Mar. 5601 March 1956"
Images Courtesy Elwood Lichack
Battle of Eniwetok
The Attack at Pearl Harbor

Introduction
Veterans
Battles
Stamford Service Rolls
Homefront
Exhibit Photos
Opening Day