The Stamford Historical Society Presents
Pride and Patriotism: Stamford's Role in World War II
Online Edition
The Interviews

The interview below is from AN AMERICAN TOWN GOES TO WAR by Tony Pavia, 1995, ISBN: 1563112760
The book may be viewed at the Marcus Reseach Library of the Stamford Historical Society.
With permission by the author.
Jack Golden
After working at the Naval Air Station in Bermuda, Jack Golden returned to the states and enlisted in the Marine Corps in 1942. As part of the Third Marine Division, he served on Guadalcanal and participated in the landings at Bougainville, Guam, and Iwo Jima.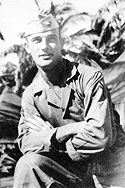 We arrived in Guadalcanal in November of 1943. By that time, the battle had been over for quite some time, but there was still plenty of mopping up to do. We were stationed at Henderson Field, and to protect it, we set up a perimeter each night and were instructed to shoot anything that moved.
Going into Bougainville, I was manning the 40 mm guns. Bright and early one morning, we were just scanning the skies when all of a sudden a Japanese airplane carne in right alongside of us and hit the ship right next to us. There must have been at least twenty LSTs, and we all opened fire on it at the same time and just destroyed it. It's amazing that with all of that fire, we didn't shoot each other. We spent about a month at Bougainville and were back in Guadalcanal by Christmas of 1943. We didn't know it at the time, but we began training for the invasion of Guam.
Before we went into Guam, we were at sea for 55 straight days. After a while, we used to joke that we were passing the same wave every day. It was unbelievable. Finally on July 21, D-Day, we went in. We got into the Higgins boats before dawn and were just floating around in the water for a few hours while they bombarded the island.
The beach landing was not the worst of it. The biggest problem was the tough resistance we met on the interior parts of the island. Our maps were wrong, too. We were told that the beach we were landing on had a huge trench surrounding it, but we never saw it.
Guam was hell. At one point, we were on the line for 16 straight days. You'd be in a ditch that was wet and humid, and you'd have to take turns sleeping at night You never really slept soundly, though. Sometimes at night, the Japanese would scream to us, "Marine you die tonight." Other times, you'd hear noises and you didn't know if it was an animal or the enemy. Then if one guy fired his rife, ten more would. One time, three guys in a foxhole fell asleep. One of them must have had a nightmare and thought he was fighting the Japanese because the next thing you know, the three of them ended up in a big brawl right there in the foxhole.
An odd thing happened just before we landed at Guam. When we were on the LST, a friend of mine kept telling me he didn't want to go in because he had a premonition that he was going to get hit. Sure enough, when we were on the beach, he was shot in the side of the face. He must've had his mouth open because the bullet passed through one cheek and came out the other. It didn't touch a thing in between. Nothing. It was remarkable. If he had been an inch to either side, he probably would have been killed. But he was evacuated and turned out fine.
While I was in Guam, I met a couple of local guys who were in the Seabees, Billy Coughlin, Tony Good and Ralph Jessup. The Seabees had much better food than we did, so every once in a while the guys would sneak me in to eat with them.
After Guam, we left for Iwo Jima We weren't scheduled for the initial assault, but were supposed to go in later. Three different times, we got into the Higgins boats for a landing, but all three times were called back. The beaches were so congested, we never made it in. So we got back on the transport and watched the battle from there. I'll never forget what happened later. When they began to take the wounded back to our ship, it was discovered that one of the kids who was badly wounded was the son of the ship's Captain. You could see that the Captain was torn apart emotionally. He wanted to be with his son, but he had to run the ship. His son later died on board.
In 1945, we began to train for the invasion of Japan. The 3rd Division was supposed to spearhead the assault, and I think they were going to use all of the divisions. We were told that it would be bloody, but then the Atomic bombs were dropped and the war ended.
I'm a believer in Providence. I was originally assigned to the 4th Marine Division, but I developed spinal meningitis at Camp LeJeune and was later reassigned. Who knows what would have happened if I hadn't gotten sick. The 4th took very heavy casualties. Maybe I wouldn't be here right now.
Overall, I don't regret a thing. But I do hope that my grandchildren never have to go to war and experience what we did.
Jack Golden returned to the states after the war was over. He was a plumber in Stamford for over 40 years.
© Anthony Pavia, 1995
Battle of Guadalcanal
Battle of Guam
Battle of Iwo Jima

Introduction
Veterans
Battles
Stamford Service Rolls
Homefront
Exhibit Photos
Opening Day