The Stamford Historical Society Presents
Pride and Patriotism: Stamford's Role in World War II
Online Edition
The Battles
The Battle of Iwo Jima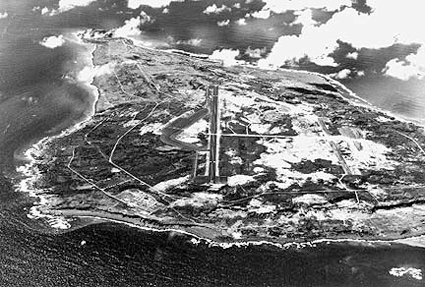 The Battle of Iwo Jima was fought during February and March of 1945. The operation was designated Operation Detachment. The island is one of the Volcano Islands, part of the Osagawara Island group, some 670 miles south of Tokyo. Iwo Jima means "sulfur," named for deposits of this mineral. The island is five miles across and varies from 2.5 miles wide in the north to 0.5 miles in the south. In total, its area is 7.5 square miles. Because of heavy previous naval and airplane losses, the Japanese were completely dependent on ground troops during the defense of Iwo Jima, no planes or boats were involved in its defense. Lt. General Tadamichi Kuribayashi was to defend Iwo Jima to the last, knowing there was no chance of victory, but intending to delay the American advance for as long as possible. He turned the island into a fortress filled with warrens of tunnels and caves, from which Japanese defenders could exact a heavy price on the invaders. These positions were filled with heavy artillery pieces. The underground chambers, built to survive naval and aerial bombardment, were sometimes large enough to hold 300 to 400 men.
The American forces, numbering some 70,000 troops, were under the command of General Holland Smith, Commanding General, Expeditionary Troops, Task Force 56; and with Naval forces under Admiral Raymond A. Spruance, Commander 5th Fleet. The U.S. V Amphibious Corps planned to land the 4th and 5th Marine Divisions on the eastern beaches. Advance was to be toward the northeast. A regiment of the 5th Marine Division was detailed to take Mt. Suribachi. On 16 February a fierce naval bombardment of the island began. Three days later 100 bombers attacked the island, followed by more naval shelling. At 08:30 hours the V Amphibious Corps landed, the first of an eventual 30,000 Marines of the 3rd, 4th and 5th Marine Divisions. By the evening of the first day 30,000 Marines had landed and surrounded Mt. Suribachi, 40,000 more Marines would land later. Flamethrowers and grenades were used against the defenders of Suribachi, and on 23 February the summit was reached. The island was declared secure on 26 March 1945.
Japan suffered heavy casualties: of the 22,000 troops on the island, only 1083 survived. American troops captured the islands highest point, Mt Suribachi, at a cost of 6821 men dead and 19,000 wounded. American casualties totaled 26,000 with 7000 killed. Iwo Jima became a key base for airplanes and facilitated air strikes on the Japanese mainland due to its proximity.

Introduction
Veterans
Battles
Stamford Service Rolls
Homefront
Exhibit Photos
Opening Day