The Stamford Historical Society Presents
Pride and Patriotism: Stamford's Role in World War II
Online Edition
The Interviews
William Rudman
Bill Rudman entered the Navy in 1938 and was assigned to the cruiser Nashville. He was frozen in Naval Service in 1941 just as his tour of duty was to end and spent the next four years on extended service. He was trained in gunnery and rose during his career to Ensign. In 1944 he was transferred to the cruiser Alaska. He earned 12 Battle Stars for his participation in many battles in the South Pacific before finally being discharged in December of 1945.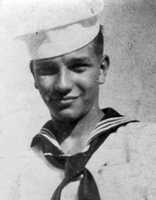 I was living on a farm in Michigan in 1937, just out of high school. I couldn't get a job. I was a member of a large family…my older brother and I signed up for the Navy. We went to Newport for Basic Training, then went to the Cruiser Nashville in Philadelphia. It was 608 feet long and 67 feet wide with a crew of 750, during war the crew numbered 1200.
Basic Training was four months…within six months I was aboard a combat ship. I entered as a seaman, an enlisted man. The ship was new ship. We first went to England, France and Sweden…then came back, went to Guantanamo Bay and the South Atlantic.
I was assigned to the gunnery department…instrumentation…working with the operation and repair of gunnery instruments…The guns were operated from central station on the ship, They were automatic, they had a range keeper, computer, at that time, calculations were made on the range keeper, that sent information to the guns to position the guns. Gunners loaded guns, but didn't shoot them, and they maintained them. One could shoot from a remote location.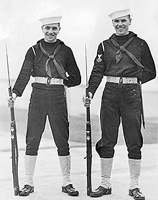 When we went to Europe in 1938 it was peacetime, we went alone to Europe, not in convoy. We knew war was coming when we stopped in England to pick up 70 million dollars in gold bullion to send to the U.S. We were expecting war. In 1938 there was a huge hurricane…we were in it for 8 days on the ocean. The ship was on end half the time with its screws out of water, chugging like fan…I got seasick that time…
I was 18 when I joined Navy. My dad was in WWI as an Army Sergeant… There were six brothers and a sister in my family. All seven boys were in the service. My older brother and I were together on the Nashville. After the five Sullivan boys were killed on the Juno, we were in South Pacific. All five Sullivan brothers were on the same ship… During the Guadalcanal campaign in June the Juno just blew up, there were only 10 survivors of 500 men. The Navy Department ordered then that members of same family on same ship had to be split up. My brother went back home…
While we were in Europe we drilled every day. We came back in 1938, then dropped off the gold in New York City. Then we were picked to take the Secretary of State, George Marshall, to a trip to South America. We went to Rio, Trinidad, etc. ...then to the Pacific to join the Battle Fleet out of San Pedro, California in 1939… It was after Christmas. In 1940 the Battle Fleet was transferred to Pearl Harbor… We were in Pearl Harbor till few months before the attack. Early 1941…April/March the order came out to take all the linoleum off the decks and strip all the paint to bare metal off bulkheads…when the British destroyed the Italian fleet in Taranto, greatest hazards were burning paint and linoleum. It was better to have bare metal. We then had to rub it all down with oil to keep it from rusting.
We were saying among ourselves, what's going on? We started to get suspicious. FDR wanted us in the war, the public didn't want it…we thought something would be created…"Remember the Maine, the Alamo", then came Pearl Harbor.
We left Pearl Harbor in April of 1941, got into a task group with the New Mexico with the Admiral, and we went to Iceland. We picked up a convoy, and took the 1st Marines into Europe for WWII and they occupied Iceland…the Marines were on troop ships…we took up the convoy to Iceland. The Atlantic was rife with sub warfare…this was just after the Bismarck got sunk…
We ran across sub warfare, but a cruiser can't fight subs, destroyers do that with depth charges and sub detecting instruments etc. We came back and were assigned to operate out of Bermuda. We were running convoys to Europe. When were in Bermuda, I was due to come home, December '41...1 didn't make it, they froze you. You couldn't get out of the service...Right after we came back from Iceland (Christmas '41) we came back, and I got sent to gunnery school in Washington DC. We had fifteen 6 inch guns, eight 5 inch guns, scores of 20 and 40mm guns… I went to school in Washington, for four months. When school finished the ship wanted me back. I was a 1st Class Petty Officer….I had been a Navy Seaman 1st Class, then Chief Petty Officer. The ship wanted me back, but was in the Pacific. It had participated in the Doolittle raid, I missed that one…and I caught the ship up in Alaska. I was on a Canadian destroyer in mid '42… and chased my ship for four months…no battle during those months.
I participated in the campaign in Alaska – the Japs landed on Adak, Attu and Agattu islands. We chased them out of there. We supported the landing troops, lay down gunfire until they could get ashore…we stayed on ship and pounded the island.
We left Alaska, and were supposed to go to the States, but instead went to Fiji. We had Christmas on Fiji on the way to Guadalcanal… We would stay at islands until they were secure…we also had air coverage and were part of a group of ships like the Indianapolis etc…the old Indian. With the Alaskan campaign secure, we were dispatched to the main fleet in Guadalcanal. We traveled alone and zigzag way down…that's how Indianapolis got sunk, it didn't zigzag and she got sunk.
I went back out again on the Alaska, went back to Iwo Jima, Okinawa, and was 100 miles off coast of Japan when they dropped the atom bomb. We were with Halsey's Fleet. We went ashore in Japan five days after they signed the peace.
Off the coast of Japan, there were lots of diehards…and they were coming out at us – Kamikazes. Halsey got on TBS – talk between ships – on the PA and gave a pep talk: "Now we know the peace is signed, but lots of people don't believe it…so, now that we are supposed to be friends, shoot them down in friendly manner."
We got into Japan…they gave up all of a sudden, we didn't have many American forces to respond to the surrender. We sent a supply and troop ship around the fleet and took all the marines, signalmen, radiomen, hospital men, that was the initial force that went into Japan. The Army was still on Okinawa…
My roommate was a Marine Lieutenant, he went ashore…we carried 95 Marines on the ship…one was my roommate…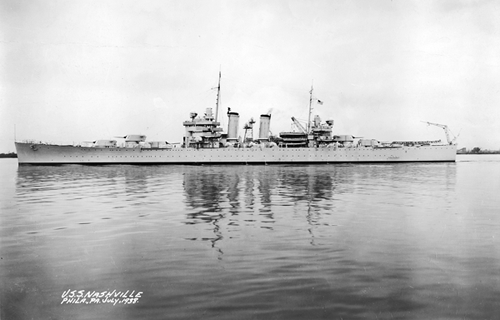 U.S. Nashville.

Taken just as the Scandinavian cruise started, 7:00 AM July 19th 1938. Taken at the Philadelphia Naval Yard.
On the Nashville, the Marines had bad luck…two complete groups were wiped out… In 1944 the Nashville took McArthur to the Philippines…then the Nashville got hit with kamikazes…180 men wiped out.
I had been transferred in July 1944 to the Alaska.
I was enlisted in Navy USN…regular Navy…when the war ended, they started to discharge all the reserves USN-R, but no provision was made for the discharge of regular Navy, under contract….I was frozen…there was no way to handle me. Even though they gave you points for each battle, so many days at sea, years in the Navy etc….everyone with 100 points leaves, except USN.
I had 12 Battle Stars in the South Pacific. All years in the Navy were sea duty… When the War ended, I finally got out…I was offered a permanent commission, but all I had was a high school education…You have to have good education to compete, so I turned it down.. I got out Christmas 1945.
During the Pacific war…there was nothing to see, no reason to get off the boat. At Guadalcanal they had Quonset huts where there were stores. You could get coupons for beer…go over to the hut get beer…They would let you get off the ship every so often, but there was nothing to do… They didn't let us ashore on battle islands…
During Iwo Jima and other battles the responsibility of the Navy was to provide sea defense…we were shelling shore batteries protecting troops… our Fleet Marines stayed on board ships. We heard the radio reports of battles and could go on deck to see the rockets etc.
Most of our time was spent drilling and training and studying…how much time in battle, well, once we were at our battle stations three days straight…with bucket in the corner to go to the bathroom. Everything was sealed…we were in the bowels of the ship, four or five decks below...that's the way it was…that was battle. In training we were at battle stations one to two hours a day. We would drill with the ships, Philadelphia, Brooklyn, Nashville, Savannah…
The battles were all similar…At Guadalcanal we were supporting the Marines. One of our turrets blew up… there had been an internal flaw, right on other side of wall from us. The word came down via phone that smoke was coming out of turret 3, it was on fire… right on other side of wall, All we did was look at one another. We expected it to blow but it didn't…The Captain would not flood the turrets because he would drown the people below.
It was still a great experience. After the first battle some 15 year olds wanted to go back home…he left them on shore on shore base in the South Pacific.
The battles were the same because our tasks were the same…the ship didn't take on injured or prisoners…
I bonded with the people because I was on the same ship for so long…after the war I kept in touch…there was a reunion every two years…now most are gone.
After the war I worked in a Naval Research Lab. I needed a degree to climb to high grades…I took the GI bill, got my degree, and went back to Michigan State. I went back to the Navy and got paid less…
I went through the Navy eight years, but was only before the mast once, for losing my identification card…you go before the judge and the commander gives penalty accordingly.
We lived in a room 60 x 30 with over 100 men in that room, bunks were four high…we had hammocks in Basic Training, but they did have hammocks in the mess hall for guys to sleep.
We carried four scouting planes, launched off catapult…Up in Alaska we weren't getting proper food, fellows had boils on their skin… my brother had seven boils so bad, his arm was in a sling…clothing wasn't so good…the captain would hold inspection, after a while clothing wore out, we dyed our white uniforms in the coffee to make up for that…

Framed portrait of Bill with inset

Paul & Bill, Newport, at basic naval training, 1938

Embroidered souvenir postcard
On back: "Put this in the Picture album as a souvenier of France"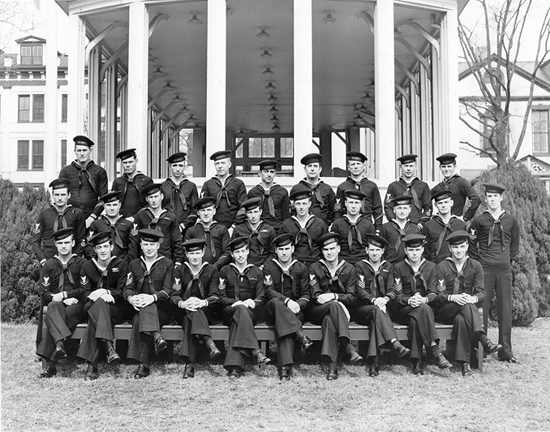 Graduation Class?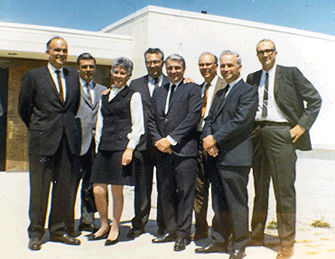 "I love you all very much – July 1970"
Four Sons in the Military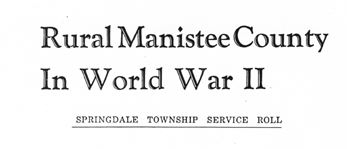 Photos, Postcard, and Clippings Courtesy William Rudman

Introduction
Veterans
Battles
Stamford Service Rolls
Homefront
Exhibit Photos
Opening Day