The Stamford Historical Society Presents
Pride and Patriotism: Stamford's Role in World War II
Online Edition
The Battles
The Battle of Normandy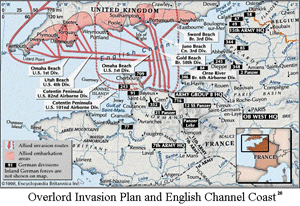 from Operation Overlord: The Invasion of Fortress Europe*
The Battle of Normandy was fought from 6 June 1944 until 25 August 1944. It was code-named Operation Overlord by the Allied forces. It was the largest seaborne invasion in history, with almost 3 million troops involved in the crossing of the English Channel. Allied forces were under the command of General Dwight D. Eisenhower, Supreme Allied Commander; Bernard Montgomery, Commander of Land Forces; Bertram Ramsey, Commander of Naval Forces; and Trafford Leigh-Mallory, Commander of Air Forces. The Allied troop strength had reached 326,000 by 11 June. The Allies faced a German force of unknown size under Field Marshals Gerd von Rundstedt and Erwin Rommel.
The Battle of Normandy began with overnight airborne paratrooper and glider landings, massive air attacks, and naval bombardments, and an early morning amphibious assault on 6 June, D-Day. The Battle went on for more than two months and concluded with the liberation of Paris and the fall of Chambois. Ultimately 47 Allied divisions were committed to the battle, totaling 140,000 troops. Some 6900 Allied vessels were involved, including 4100 landing craft in addition to 12,000 aircraft, with 1000 transports planes to fly in paratroopers. Ten thousand tons of bombs would be dropped on the German defenses and 14,000 attack sorties would be flown by battle's end.
Landings were made by Allied forces at the beaches codenamed Sword, Juno, Gold, Omaha, and Utah. The initial landing and establishment of a beachhead was codenamed Operation Neptune. By 30 June its goals had been reached. By 25 August Paris was liberated and the battle was ended. Throughout, German forces were hindered by poor communications and Allied bombing.
Allied casualties totaled some 53,700 dead, 18,000 MIA and 155,000 wounded. The Germans suffered about 200,000 dead, wounded or MIA and 200,000 captured.
*Note, June 2010: The link to this page has been permanently removed by the author, thus a larger image of the map is no longer available.

Introduction
Veterans
Battles
Stamford Service Rolls
Homefront
Exhibit Photos
Opening Day