The Stamford Historical Society Presents
Pride and Patriotism: Stamford's Role in World War II
Online Edition
Bull'Head Roll of Honor
The Bull's Head Honor Roll stood at the corner of Long Ridge and High Ridge Roads, where the bank building is now. It was made and designed by L. Leslie Clarke, and unveiled 1944 by Anne Clarke née Corrigan. It was taken down in 1960.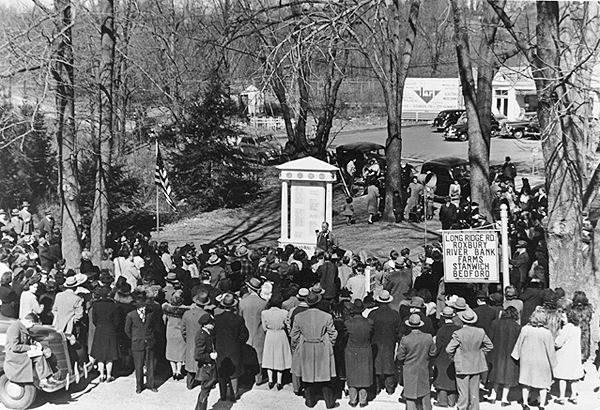 Unveiling Ceremony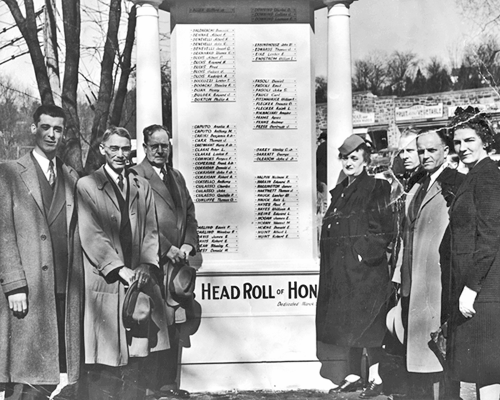 Description on back of photo:
2nd from left is Linton Leslie Clarke, Designer and Builder of the monument unveiled in 1944. This photo given to the Stamford Historical Society by Peter L. Clarke, son of Les. 2nd from left, F. Benevelli Purchasing Agent, E. Cullimore, Mrs. Cockram (?spelling), Mayor Barret, Anne Clarke.
The enlargement below show most of the honor roll, which does include the living.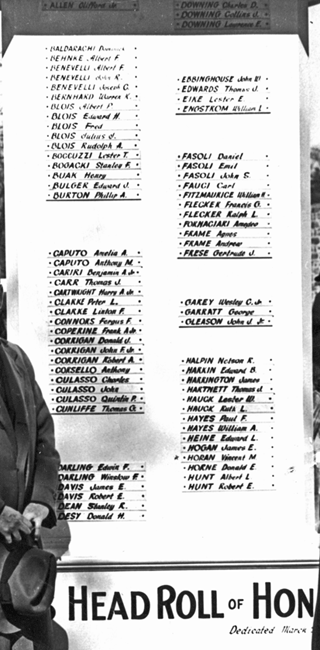 Images © Stamford Historical Society
[Rock Photo needed]
Downtown Stamford Service Roll
Liberty Street Honor Roll
Machlett Laboratories Honor Roll

Introduction
Veterans
Battles
Stamford Service Rolls
Homefront
Exhibit Photos
Opening Day