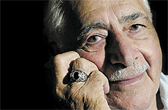 © The Advocate 2002
The Stamford Historical Society
Presents the Virginia T. Davis, Stamford Historical Society
Distinguished Service Award to
Frank Zurzola
9 June 2008
Address by Ron Marcus, Librarian
Good evening. It is a pleasure for me to present this year's Virginia T. Davis, Stamford Historical Society, Distinguished Service Award to one of our most outstanding volunteers. This tribute is given in memory of a remarkable person, whose devotion to the City of Stamford through this organization was summarized in a 23 March 1983 Advocate Editorial. "[Virginia] believed that community's sense of its own history gave it a solidity and depth that it otherwise would not have. She was right in thinking so."
In bestowing this honor upon this year's recipient we continue a tradition which began in 1988, to recognize outstanding individuals who truly exemplify the spirit of volunteerism. This organization as well as numerous others could not continue to exist without such selfless commitment.
Our honoree began life in 1919 on the top floor, in a cold-water flat on Pacific Street. Upon graduation from Stamford High School, Class of 1937, he sought employment during a very difficult period of our nation's history, the Great Depression. After working several years at a variety of jobs, often putting in long hours, the entire world changed with the advent of WWII.
After enlisting in the military and going through basic training he received orders to go to school. He aspired to be an MP, but instead was sent to clerical school after which he was assigned to a mess hall typing menus and other office duties. Not particularly fond of this workplace he sought and received another position. Beginning with KP duty he ended up going to cook and baker school in Kingman, Arizona and eventually attained the rank of Mess Sergeant and cook, serving in the 7th Army Air Force, rising through the ranks in their kitchens. It was in this capacity that he cooked and managed mess halls at a number of bases in the American Southwest before being shipped out to Hawaii where he stayed until the end of the war. Amongst his fondest memories are cooking for Bob Hope and Frances Langford.
Upon returning home, he obtained a position in manufacturing, where he remained for thirty years, becoming a supervisor of three departments. After he and his wife were married in 1948, they chose to reside in the Cove section of Stamford, where they raised their three children.
Andrew Sullivan
The Stamford Advocate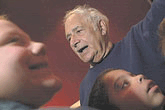 Always proud of his Italian-born parents, he volunteered to assist with the Stamford Historical Society's exhibit, Immigrant's Stamford: Along Old Pacific Street. Part of the programming for this show included conducting school groups through it, which he thoroughly enjoyed. Even now he is still regarded as "the foremost chronicler of that cosmopolitan neighborhood, precursor of today's multicultural Stamford."
He also participated in our outstanding exhibit Pride and Patriotism: Stamford's Role in World War II, by consenting to be amongst those who were interviewed. Today, his photo and replies to questions can be found along with his fellow veterans, online at the Society's website.
It is because of dedicated volunteers, as represented by this year's honoree, working in conjunction with the Director and Administrative Assistant, that the Stamford Historical Society is able to continue serving the City of Stamford in its role as municipal historian.
It now gives me great satisfaction in presenting this year's Virginia T. Davis, Stamford Historical Society Distinguished Service Award to Frank Zurzola.
Frank Zurzola and the class ring (The Advocate)
Awards
Volunteer Opportunities