1508 High Ridge Road
Stamford, CT 06903
Telephone: (203) 329-1183
Fax: (203) 322-1607
E-mail: history@stamfordhistory.org
Directions: Map

Start Page
Blog
Main Page
Directions, Services & Hours
About us
Board of Directors and Staff
Press Releases
Calendar of Events
includes other local institutions
Photo Selection of the Month
Picture Show
Headquarters' Photo History
Photo Archives
Research Library
Record Groups & and Other Publications
Bibliography of Stamford
Vertical File Index
The Shop Downstairs
Volunteer Opportunities
Hoyt Barnum House
Exhibitions, past & present
The Civil War Roundtable of Fairfield County
Jewish Historical Society of Fairfield County
Useful Links
Stamford, Fairfield County & Connecticut
Libraries, Historical Societies, etc.
Stamford, UK
The National Council for History Education
History gives context for human activity.
History is the foundation for sound judgement.
History extends human knowledge
beyond what individuals experience on their own.
Book Corner Updated
Audio Book: Stamford, Our Pride
SHS Museum Book Store
Online Book Shop
Young Readers
Shop at Amazon.com
and the Society earns money!




In lieu of a current guestbook,
please send us your comment here
Seal of the City of Stamford, 1916
Welcome to the City of Stamford
official website
New Public Hours:
Thursdays & Fridays from 11:00 AM to 4:00 PM
Saturdays from 10:00 AM to 4:00
Want to Know What's Going On at The Society?
Visit our Blog: Stamford History Real Time
The Blog has an e-mail subscription feature: scroll down in the lefthand column of the blog to sign up.

Join us at Facebook: Friends of the Stamford Historical Society
Join us at TwitterPurchase our Bookmark & Pewter Pendant
Current Exhibit
100 Years in the Making: Highlights from the Society's Collections
---
The Hoyt Barnum House will be open in July & August, and September 3
Fridays 11 – 4
The society is also looking for Docents to be trained to give tours at the house.
---

Now online: Best Face Forward: Portraits from the Society's Collection
---
Ann M. Case receives the 2010 Virginia T. Davis Distinguished Service Award
---
---
Sons of Stamford - A Memoir
(Deputy Chief John F. Moriarty)

Robert D. Towne (1918-2008) add your reminiscenses
Newsletter: Stamford Pioneer
About Our Trip to the Florence Griswold Museum, June 12 (add your comments)
Charles O. Miller, Stamford Businessman and Philanthropist
Uncovering the Past: Old Cato, former slave
Call for Docents for our Hoyt Barnum Colonial Life Program, including anyone with Weaving and Spinning expertise
Photo Albums
Photo Album: Touch-A-Truck 2008
Photo Album, 2008 Dinner Dance at the Hibernian Hall
Old Timers' Athletic Association of Stamford updated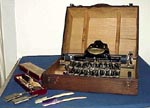 PHOTO SELECTION OF THE MONTH: December 2009
A Reprise: The Portable Typewriter and its Uses, 1913
Don't miss Brownstones on Bell Street, the first in a series of photos taken prior to the late 1960s urban redevelopment of downtown Stamford. Courtesy The City of Stamford, Connecticut, Urban Redevelopment Commission.

WHITMAN BAILEY SKETCHES:
Inventoried Collection IC112, Data Now Online.
Beginning in 1924 and continuing for the next thirty years, Whitman Bailey's sketches appeared in the Stamford Advocate almost weekly. Black and white drawings of local scenes, the sketches were accompanied by brief vignettes of the scene. Mostly factual, at times the stories presented were local folklore faithfully transmitted for the interest of the reader. Thanks to Dorothy Mix and other volunteers, our collection of the newspaper clippings has been organized and scanned and may be viewed in the Marcus Research Library.
We are intermittently blogging these sketches.
---
---
---
---

VOLUNTEERS MATTER!
Become a volunteer with the Stamford Historical Society!
Volunteers for Two Special Projects Sought
Collection Inventory and Research Library cataloging are two very important projects which urgently need volunteers!
Call for docents for our Hoyt Barnum Colonial Life Program,including anyone with Weaving and Spinning expertise
Virginia T. Davis Distinguished Service Awards
Margaret Bowen Receives "Distinguished Advocate for Heritage" Award
The Society has received a 2006 Award of Merit from the Connecticut League of History Organizations for the 2005/6 Davenport Exhibit. Kudos to all involved in making the exhibit happen!
---
PAST EXHIBITIONS AND LECTURES
scroll down below to make your selection
---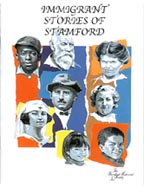 IMMIGRANTS' STAMFORD
Tracing the development of Stamford's Diverse Community
(1848-1935)
We are interested in your or your family's immigration or migration story.
Click here for details.